SHENZHEN, China (October 25, 2018) – MGI, a subsidiary of BGI Group, introduced its newest model of genetic sequencer, MGISEQ-T7, which vastly improves speed, throughput and flexibility, at the 13th International Conference on Genomics (ICG-13) in Shenzhen. The most powerful MGI sequencer to date, MGISEQ-T7 is built with innovative quadruple flowcell staging that allows simultaneous but independent operation of 1 to 4 flowcells in a single run. The MGI proprietary technology used in T7 delivers higher accuracy and improves efficiency through upgrades to the flowcell, fluid, and biochemical and optical system. A supercomputer for the life science industry, MGISEQ-T7 takes the production capacity of the sequencer to a new level with daily output of data up to 6Tb.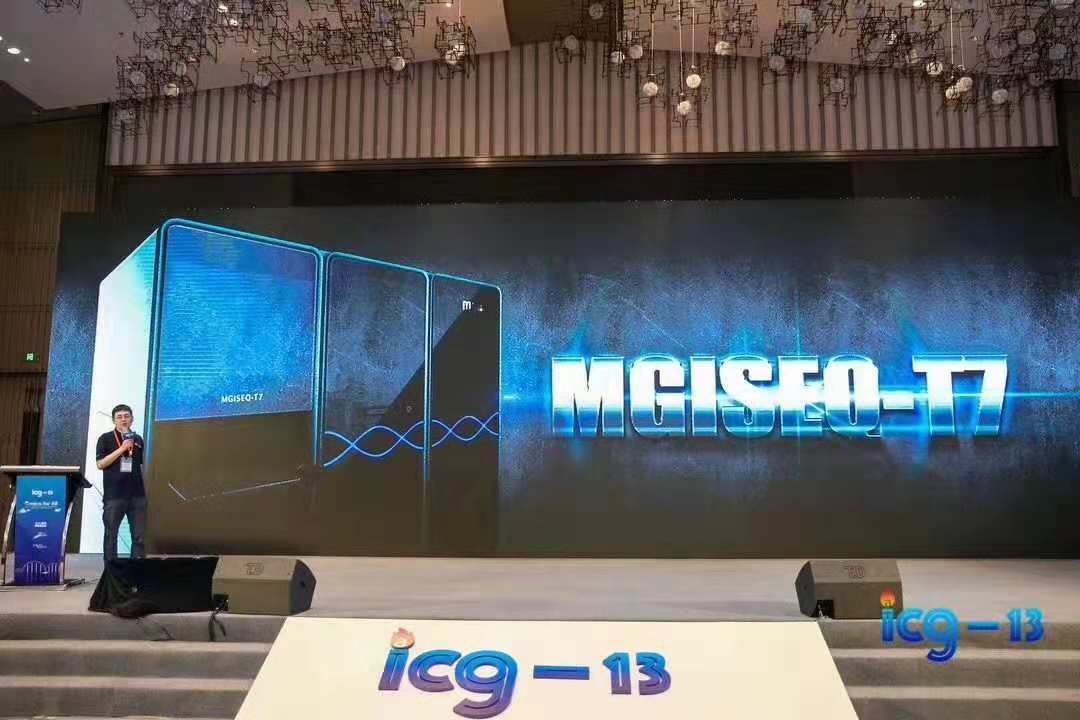 Jian Liu, Executive Vice President of MGI, unveiled MGISEQ-T7
Jian Wang, President of BGI Group, said the research on human genomes and related applications will serve all human beings around the world. "The mission of MGI is to help people live better and healthier lives, which is always the core concept of BGI Group."
"MGI is developing at an unprecedented speed, and our technology has advanced to lead the market," said MGI CEO Feng Mu. "This new instrument demonstrates the level of MGI's innovation and commitment to progress: we continually challenge ourselves and drive towards our goal to make highly accurate next generation sequencing more affordable to benefit more people around the world."
The MGISEQ-T7 introduces many groundbreaking innovations, including:
Unique Quad-Flowcell Platform, supporting independent operation of 1-4 chips
A revolutionary quad-flowcell platform enables multiple flowcells with different read lengths and applications to be processed independently at any time in a single run, resulting in further savings of time and cost. The platform supports whole genome sequencing, ultra-depth exome sequencing, epigenome sequencing, and large-panel tumor gene detection. With flexible sequencing methods and extensive sequencing applications, users can now start sequencing at any time based on their specific needs.
"The MGISEQ-T7 a major milestone for MGI. Now customers have complete flexibility for a wide range of sequencing, at the same time, all in one machine," said Feng Mu.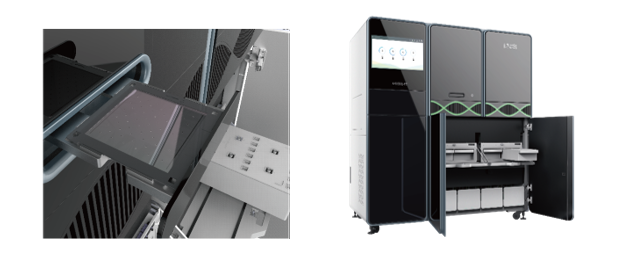 Sequencing speed has increased by over 50%, completing PE 150 in less than 24 hours
MGI is committed to improving the speed of sequencing, and MGISEQ-T7 runs much faster than any other sequencer to date. Whether it's a single chip or four chips running simultaneously, MGISEQ-T7 can maintain its consistently strong processing capacity. With MGISEQ-T7, PE150 takes less than 24 hours at full load to complete.
Single chip density increased by 20%, achieving ultra-high throughput
MGISEQ-T7's chip density is increased by 20%. Terabyte-level data can be produced with a single chip. In addition, four chips can run independently at the same time. Without interruptions for 24 hours, MGISEQ-T7 can produce up to 6Tb of data in one day, which provides customers with superior daily production capacity.
Partners and customers around the world who have been using the MGI platform have recognized its distinct advantages.
"MGI devices have the advantage of cost-effectiveness, accuracy and technical capabilities," said Dr. Ken Yagi, senior research scientist at RIKEN, Japan's largest comprehensive research institution. "MGI deserves to be a partner in the long term. It is continuing technological development. Their technology would continue to be a top player in our field."
"MGI is the first company that can achieve affordable and essentially error-free genome sequencing," said Dr. George Church, Professor of Genetics, and Health Sciences and Technology of Harvard and MIT.
Advancing National Genome Projects
The ultra-fast, ultra-high-throughput MGISEQ-T7 can complete whole genome sequencing for up to 60 human genomes in a single day, breaking barriers for what a next generation sequencer can do and embodying a supercomputer for the gene sequencing industry. MGISEQ-T7 accelerates the development of nationwide genomics projects, since a T7 can complete the sequencing of 10,000 genomes within a year. In China, the 100,000 Genomes Project was launched in December 2017 and is expected to be completed in four years. In the UK, the 100,000 Genomes Project was started in December 2012. With 71,095 genomes completed in July 2018, the country expects to complete the project by the end of 2018. In the past, a 100,000-population-genome program would take four to six years to complete. Now, using six T7s, such projects could be completed in just one year.
"The new T7 capability will give a huge boost to national genome projects around the world to empower faster breakthroughs and benefit the health of local populations," said Duncan Yu, president of MGI.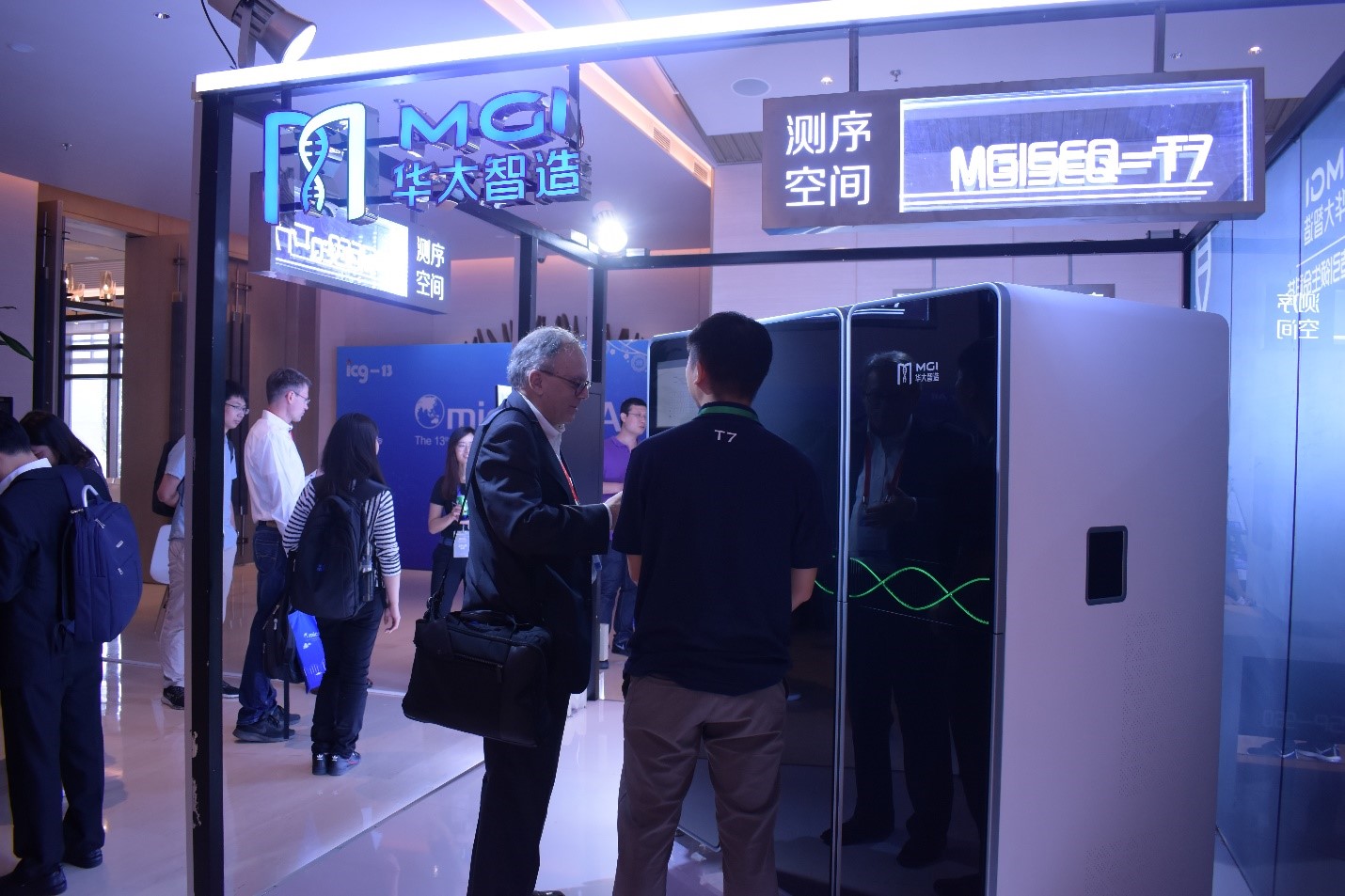 MGI Supporting Products Deliver the Perfect Sequencing Process
MGI has been working on packages to deliver a perfect sequencing process, make sequencing easy and freeing up valuable time. MGI has developed an automated sample preparation system based on the needs of ultra-high-throughput genomic sequencing. MGI today announced the MGISP-960, which has a higher throughput and can prepare 96 samples in one run, a major advance from the previously released MGISP-100 that can automatically prepare 8 samples in one run. MGISP-960 can perfectly support the sequencing throughput requirements of MGISEQ-T7, making MGISEQ-T7 more powerful and practical.
At ICG-13, MGI will announce the new library preparation kit for single tube Long Fragment Reads (stLFR) technology, which significantly reduces the cost and complexity of long fragment library preparation. The stLFR technology has been recognized as perfect WGS library preparation by the industry since it was introduced by MGI Chief Scientific Officer Rade Drmanac in March during HGM in Japan. It was transferred into production within half a year, already recruiting early users and will be commercially available in December.
MegaBOLT Somatic is an extended application for tumor mutation detection based on the MegaBOLT bioinformatics accelerator released in May. MegaBOLT Somatic dramatically cuts the time needed for tumor analysis, down to 6.5 hours for WGS and 0.9 hours for WES. The cost reduction and the speed increase of MegaBOLT Somatic will provide alternatives for tumor gene sequencing analysis to benefit patients and researchers.
MGI continually strives to achieve a perfect sequencing process. At the annual International Conference on Genomics, MGI will continue to deliver superior next generation sequencing (NGS) innovation to the industry through its new products. Developing advanced life science tools for future healthcare, MGI is committed to enabling effective and affordable healthcare packages for all.
About MGI
MGI Tech Co., Ltd. (MGI), a subsidiary of BGI Group, is committed to enabling effective and affordable healthcare packages for all. Based on its proprietary technology, MGI produces sequencing devices, equipment, consumables and reagents to support life science research, medicine and healthcare. MGI's multi-omics platforms include genetic sequencing, mass spectrometry and medical imaging. Providing real-time, comprehensive, life-long packages, its mission is to develop and promote advanced life science tools for future healthcare.