RIGA, Latvia, November 26, 2019 -- MGI officially opened a new R&D and manufacturing facility in Riga, Latvia today, aiming to build a bridge between China and Europe for health science innovation.
The new MGI Latvia facility includes a product manufacturing center, high-throughput sequencing center, training center and logistics center. MGI will also establish a China-Europe Life Health Innovation Center at the site to strengthen innovative cooperation between China and Europe in the fields of life science research, industrial applications and technical standards, further promoting cooperation in international large-scale genome projects and enhancing exchanges between Chinese and European enterprises.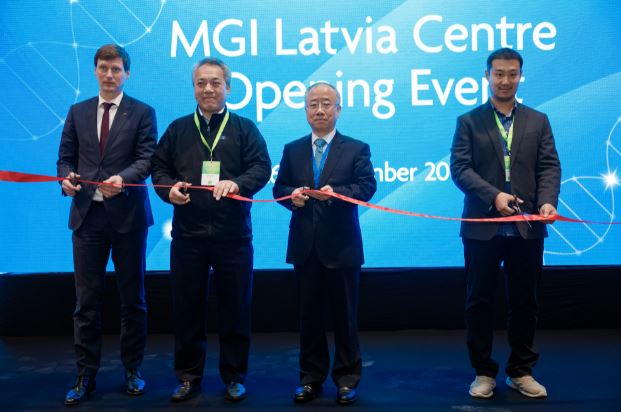 opening ceremony (from left to right: Ralfs Nemiro, Duncan Yu, Liang Jianquan, Hou Yong)
Leading dignitaries attended the opening ceremony and expressed support, including Ralfs Nemiro, Minister of Economic Affairs of the Republic of Latvia; Liang Jianquan, Ambassador Extraordinary and Plenipotentiary of the People's Republic of China in Latvia; Shen Xiaokai, Commercial Counselor of the Chinese Embassy in Latvia; Professor Lars Engstrand, director of the Centre for Translational Microbiome Research (CTMR) of the Karolinska Institutet in Sweden; and Duncan Yu, President of MGI.
Minister Nemiro said the opening of the facility represents a huge investment in high value-added products. "MGI's world-leading genetic sequencing technology and equipment will help us to better develop scientific research capabilities in life science and promote development advantages, " he said.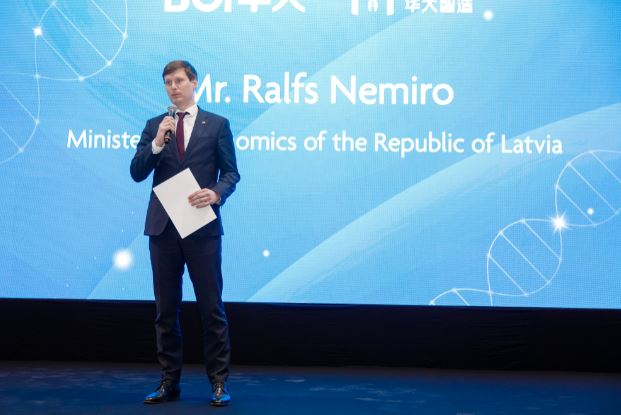 Ralfs Nemiro, Minister of Economic Affairs of the Republic of Latvia
"This is the first life science and technology center set up by a Chinese enterprise in central and eastern European countries," Ambassador Liang Jianquan said at the opening ceremony. "I believe this project will strengthen the cooperation between China and Latvia to achieve more common ground."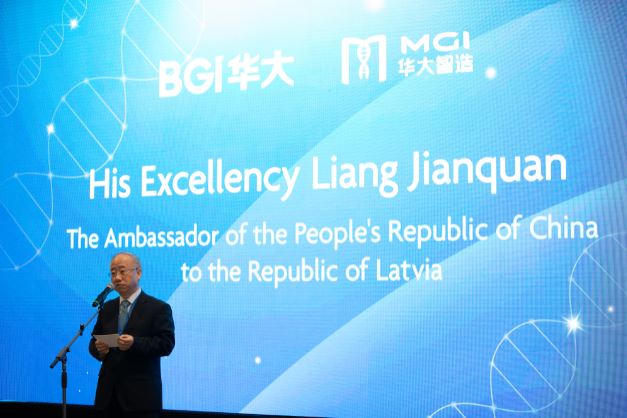 Liang Jianquan, Ambassador Extraordinary and Plenipotentiary of the People's Republic of China in Latvia
Duncan Yu, president of MGI, said the base in Latvia is a key investment for the development of European business and an important step for MGI's globalization. "Based on Latvia's existing biotechnology foundation, MGI is confident to form a life science innovation platform centered on 'gene technology' in Europe using its leading product and technology. This will help high-end life science research equipment in China go global, building a complete technical service support system and product supply chain to efficiently meet the needs of customers and build deep experience in the European market."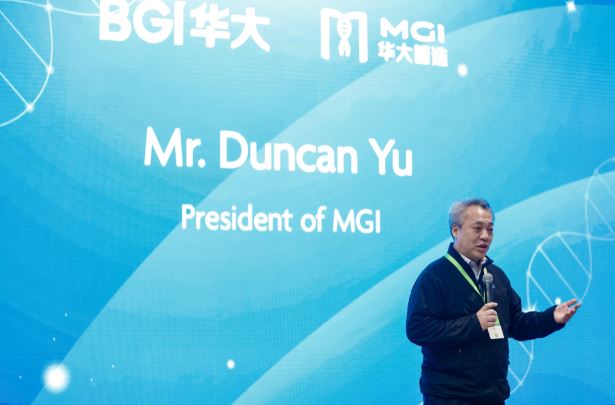 Duncan Yu, President of MGI
MGI has built deep experience in the European market and expanded its global portfolio
Europe has always been a top life sciences market and technology leader, thanks to its world-class academic research and public research funding, and its extensive regulatory and clinical application exploration. As one of the EU member states, Latvia developed expertise as a center for new drug research and development in the former Soviet Union. The biotechnology industry (including medicine, ecological agriculture, biotechnology equipment, and bio-energy) is also one of the country's important development strategies.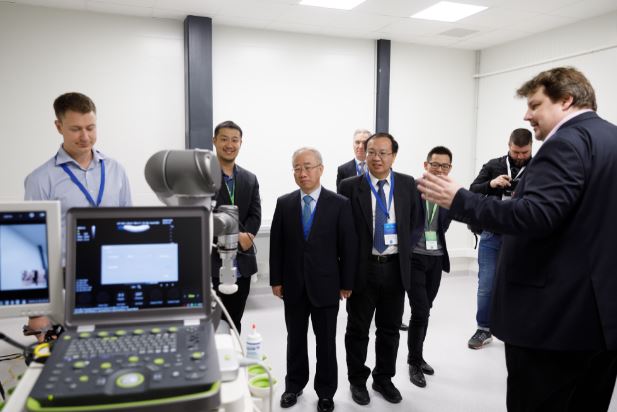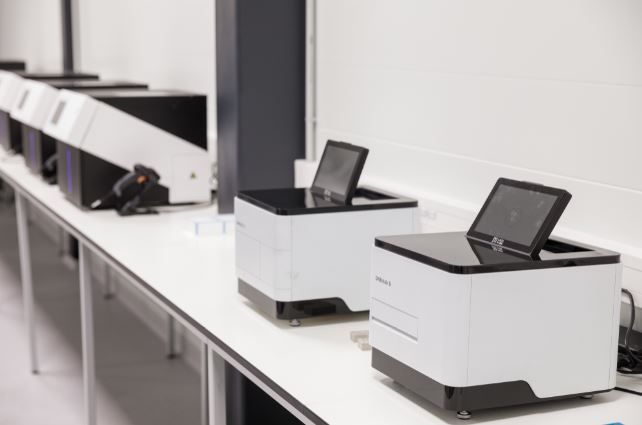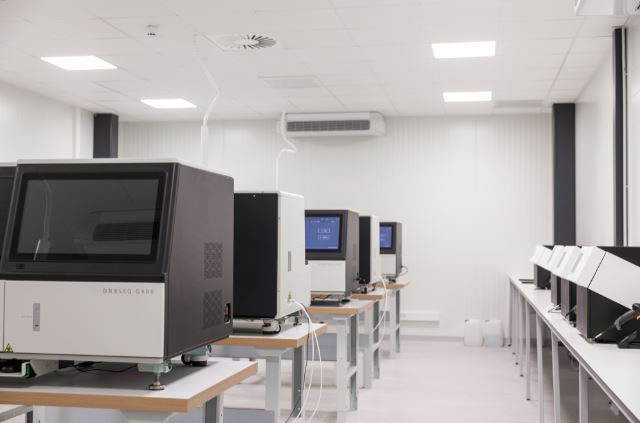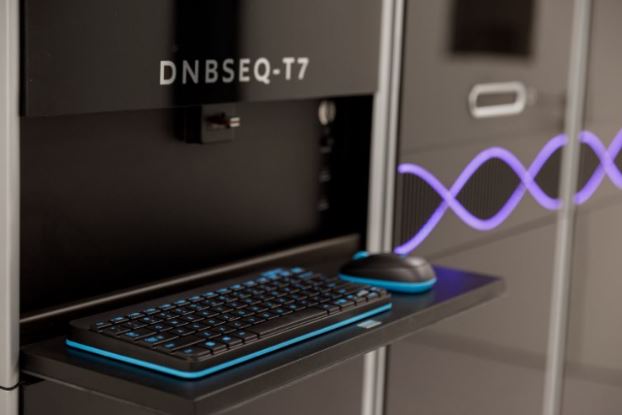 Andis Slaitas, General Manager of MGI-Latvia introducing the facility
MGI has set up R&D and production centers in Shenzhen, Wuhan and Qingdao in China, and in San Jose in the US. MGI's Latvia base will accelerate its global R&D, manufacturing and market network in Asia, Europe and the Americas, building a global ecosystem. The new 7,000 square-meter facility is located in the Lidostas Park about one kilometer from Riga International Airport.
MGI-Latvia help to promote the implementation of China-Europe Million Level Genome Project
At present, the Latvia center fulfills four functions: R&D cooperation, testing experiments, regional sales and regional maintenance. It has completed CE certification of four sequencers and various reagents. It has also established a joint laboratory with the Latvian Biomedical Center (BMC) to actively carry out genomics research projects and localization of genomics talent training, including three projects supported by the European Regional Development Fund, covering genetic and functional studies of rare genetic diseases, and prevention of gastric cancer.
Through MGI's world-leading gene sequencing technology, the newly launched Latvia base will attract and support top European research and innovation institutions to form a regionally influential life health R&D and application platform.
The newly initiated Million Microbiome of Humans Project" (MMHP), launched at the 14thInternational Conference on Genomics(ICG-14)October 26 to sequence and analyze one million microbial samples, will also carry out pertinent research work at the Latvia facility. At the opening ceremony, BGI Research and MGI announced a new collaboration with scientists from around the world to use single-cell RNA sequencing of 10 million cells to digitalize life at single-cell resolution. The 10 Million Single-Cell Transcriptome Project (scT10M) aims to build a comprehensive single cell map to be shared with the scientific community forbetter understanding of life science, including human health and disease, systems biology, evolution, development and biodiversity.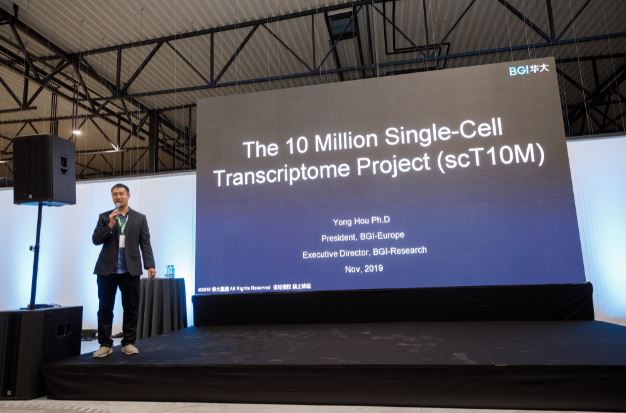 Hou Yong, Executive Director of BGI Research introducing scT10M
As the representative of top scientific research institutions in Europe, Professor Lars Engstrand of the Karolinska Institutet said: "We have established innovative cooperation with many European countries. I believe that this facility will attract more top European research and innovation projects, and I look forward to producing more scientific research results in the future."
With the opening of MGI-Latvia base, the other business segments of the BGI Group will subsequently develop local business to leverage the strengths of the world's largest genomics institutions in Europe and promote pragmatic cooperation in medical health, technology services, high-end manufacturing and agriculture.