​MGIFLP-SL200
MGIFLP-SL200 has four functional modules: blood centrifuge module, sample module, library preparation module, and sequencing module. Equipped with the special plate kit, data analysis software, information management system, and database, the workstation releases the labor power to the maximum extent, integrates the whole sequencing workflow in one step, and provides fully automated packages from sample to sequencing report to clinical and scientific researchers.
Request Quote
Features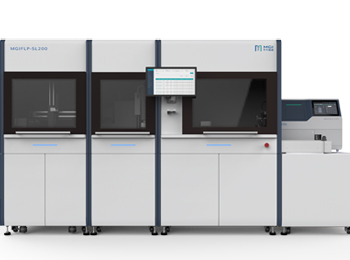 | | |
| --- | --- |
| Fully enclosed one-stop packages, supporting whole workflow unattended | Fully enclosed design, achieving strict pollution prevention and control |
| Comprehensive planning, reducing the occupancy of the laboratory space | From sample to sequencing report within only 24 hours |
Related Products
Sequencing

Performance Parameter
MGIFLP-SL

Throughput

1-16 samples/run

Sample type

Whole blood

Pipette Range

2 μL~200 μL

Pipetting Precision

2 μL: 5% 200 μL: <1%

Pipetting Accuracy

2 μL: <±10% 200 μL: <±1%

PCR device

Temperature range: 4~99℃

Temperature accuracy: ±0.3℃ at 55℃

Temperature uniformity: ±0.2℃ at 72℃

Temperature control module


Temperature range: 4~90℃

Temperature accuracy: ±1℃ at 55℃

Temperature uniformity: ±1℃ at 72℃
Genetic Sequencer

Quantity of lane

1 lane

Read length

SE50 SE100 PE50 PE100

Sequencing time

12-48 hrs

Effective reads of single flow cell

550M

Maximum effective reads

300M

Data output

10.5-60GB/run

Data quality

SE50 Q30≥85%

SE100 Q30≥80%

PE50 Q30≥80%

PE100 Q30≥75%

The maximum number of effective reads is calculated based on the particular standard library. Actual output varies with sample types and library preparation methods.

System Parameter
Power supply & Dimensions & Net weight

MGIFLP-SL

Voltage and frequency range: 200 V ~ 240 V, 50/60 Hz Rated power: 2000 VA

Genetic sequencer

Voltage and frequency range: 100 V ~ 240 V, 50/60 Hz Rated power: 900 VA

Dimensions: 3450 mm (L) x 1860 mm (H) x 1000 mm (W)

Net weight: 764kg

Operating environment

Temperature: 19 ℃ ~ 25 ℃ Relative humidity: 20% RH ~ 80% RH, non-condensing

Atmospheric pressure: 70 kPa ~ 106 kPa

Degrees of protection provided by enclosures (IP Code): IPX0

Indoor use only.



Related Documents
Materials

Video