Experience Seamless Sequencing
DNBSEQ-G400(1) is built with a new Flow Cell system that can flexibly support a variety of different sequencing modes. It adopts optimized optical and biochemical systems, which can complete the sequencing process rapidly, providing users with a more streamlined sequencing experience.
Request Quote
Features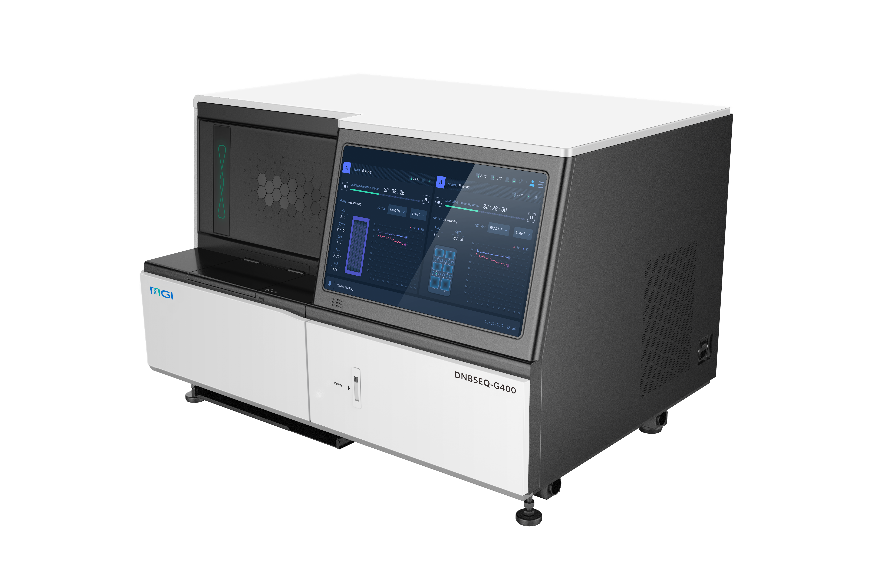 | | |
| --- | --- |
| 55 Gb~1440 Gb per run | PE150(FCS) sequencing at full capacity in only 37 hours |
| Support a range of read lengths including SE50, SE100, SE400, PE100, PE150, PE200, PE300 | Support sequencing and data analysis in a wide range of areas including basic research, clinical research, forensics, and agriculture. |
Performance Parameter
DNBSEQ-G400 Specifications
Platform
DNBSEQ-G400
Flow Cell No.
2
Flow Cell Type
FCS
FCL
Lane No./Flow Cell
2
4
Effective Reads/Flow Cell*
300 M /550 M
1500 M~1800 M
Read Lengths


SE100

PE100

PE150

PE300

SE50

SE100

SE400

PE100

PE150

PE200

* The maximum number of effective reads are based on the sequencing of an internal standard library. Actual output may vary with sample types and library preparation methods.
DNBSEQ-G400RS Performance
Read Lengths
Data Output/Flow Cell
Data Quality Q30*
Run Time**
SE50-FCL
75 Gb ~90 Gb
>90%
~14 hrs
SE100-FCL
150 Gb ~180 Gb
>90%
~25 hrs
SE400-FCL
600 Gb ~720 Gb
>70%
~109 hrs
PE100-FCL
300 Gb ~360 Gb
>85%
~38/48 hrs***
PE150-FCL
450 Gb ~540 Gb
>85%
~56/66 hrs***
PE200-FCL
600 Gb ~720 Gb
>75%
~107 hrs
SE100-FCS
55 Gb
>85%
~13 hrs
PE100-FCS
110 Gb
>85%
~26 hrs
PE150-FCS
165 Gb
>85%
~37 hrs
PE300-FCS
180 Gb
>80%
~98 hrs
* The percentage of base above Q30 is the average of an internal standard library over the entire run. The actual performance is affected by factors such as sample type, library quality, and insert fragment length.

** Run time is calculated based on dual-slide mode including sample loading, sequencing, base calling, and data processing.

***38 h and 56 h are the run time after upgrading the latest version
System Parameter
Operating Environment Requirements

Temperature: 19℃~25℃

Relative Humidity: 20% RH~80% RH, non-condensing

Atmospheric Pressure: 70 kPa~106 kPa

Waterproof Rating: IPX0

Control Computer Configurations

CPU: Intel Xeon E5 10 Core x 2, 2.2 GHz

Internal Storage: 256 Gb RAM
HDD: 16 Tb
SSD: 480 G
Operating System: Windows 10 Enterprise




Power & Dimensions & Net Weight

Power Type: 100 V~240 V ,50/60 Hz

Rated Power: 1200 VA

Dimensions(L×W×H): 1086 mm×756 mm×710 mm

Net Weight: 200 kg




Product Model*

**DNBSEQ-G400

DNBSEQ-G400RS(1) (For research use only. Not for use in diagnostic procedures.)

DNBSEQ-G400CX(1) (clinical purpose, overseas IVD)

Remark: *means that "the product model names, DNBSEQ-G400 and MGISEQ-2000, are used in the selected oversea countries and China, respectively."



(1) Unless otherwise informed, this StandardMPS sequencing reagent is not available in Germany, UK, Sweden, and Switzerland.