NANNING, CHINA, November 27, 2020 - The Exhibition on Advanced Technologies of the 17th China-ASEAN Expo, with the theme of "Building the Belt and Road, Strengthening Digital Economy Cooperation", kicked off at Nanning International Convention & Exhibition Center (NICEC). As an invited exhibitor, MGI made an overnight delivery of the anti-epidemic star product -- "Huo-Yan" mobile PCR lab to Guangxi, China. It made a successful appearance at the ASEAN Expo and attracted a lot of attention.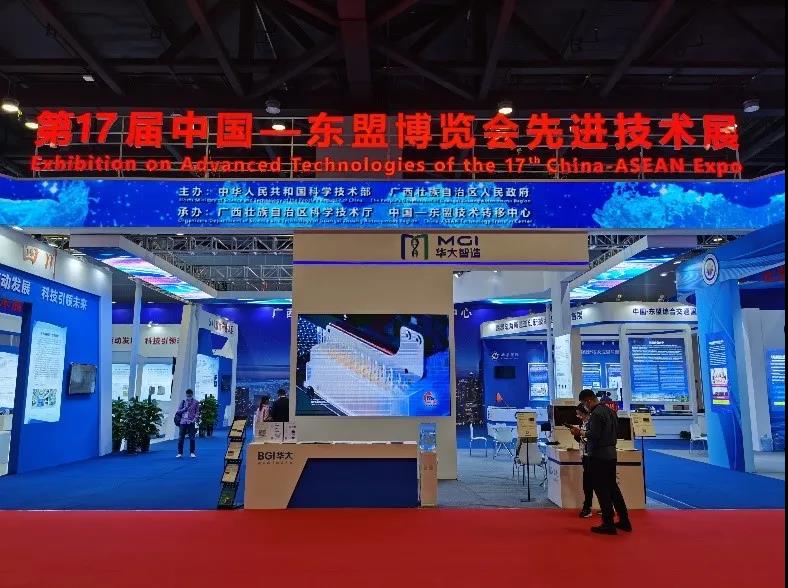 MGI's exhibition booth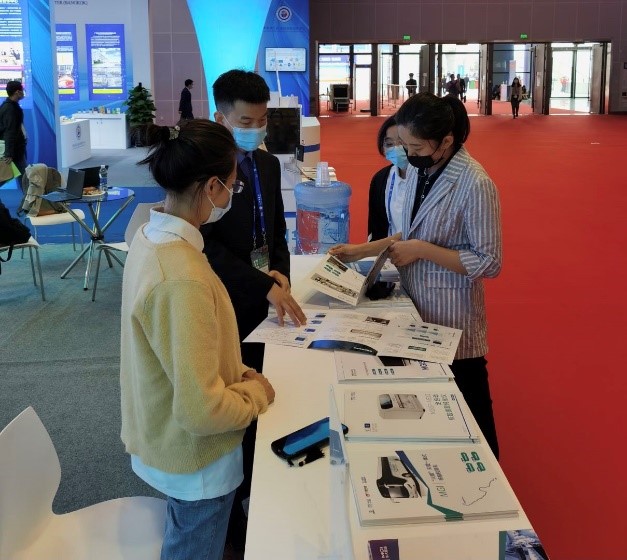 MGI's staff is introducing products to the exhibitors

2020 has been an unusual year due to COVID-19, and this epidemic has aroused people's attention to public health. Many countries were facing a serious challenge of insufficient daily throughput of nucleic acid detection. At the opening ceremony of the Expo, President Xi Jinping stressed that the two sides need to strengthen cooperation against COVID-19 and enhance capacity building in public health. As an anti-epidemic "pioneer", MGI actively responded to the national call and exhibited a series of high-performance solutions for novel coronavirus this time. In addition, MGI also made an overnight delivery from Wuhan to Nanning to showcase the anti-epidemic star product "Huo-Yan" Mobile PCR Lab.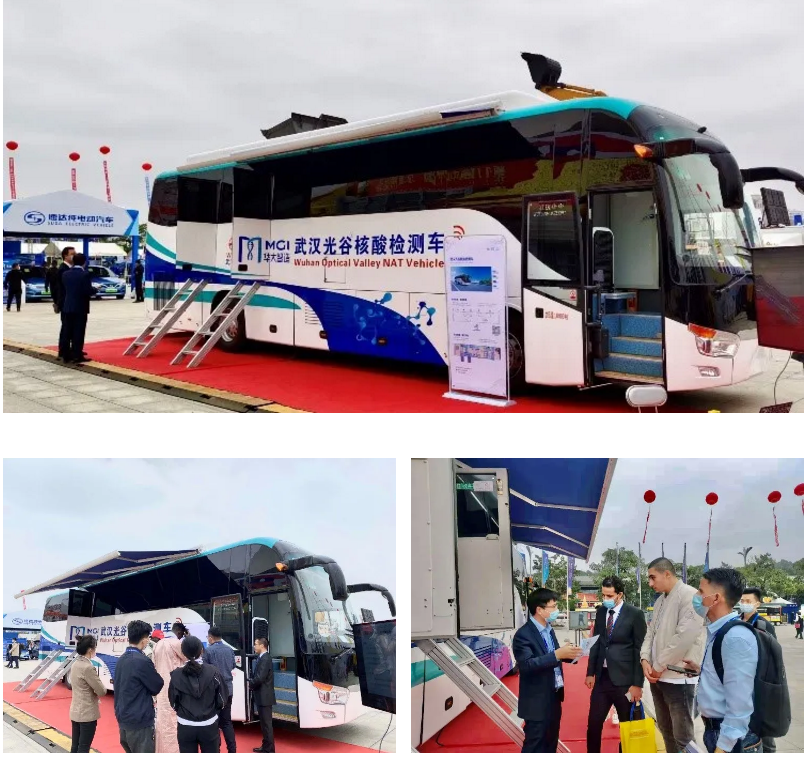 MGI Showcases "Huo-Yan" Mobile PCR Lab at 17thChina-ASEAN Expo
This Mobile, vehicle-mounted P2 level biosafety lab was jointly developed by Wuhan Bus and MGI. It can realize the maximum of 20,000 mixed samples per day and 2,000 non-mixed samples per day. In addition, it can also achieve rapid deployment and ready-to-use to reduce the time for sample transfer, and improve the detection efficiency and quality, as well as provide a strong guarantee for the normalized COVID-19 prevention and control.
Empowered by a series of MGI's advanced anti-epidemic solutions, the "Huo-Yan" Mobile PCR Lab can carry out rapid and efficient nucleic acid detection. Among them, MGISP-7000, an automated sample transfer processing system made by MGI, can realize automatic barcode scan, information check and sample dispatch. It can transfer 192 samples from airtight sample tubes or plain tubes to 96-Well Microplates in 40 minutes. The MGISTP-7000 high-throughput automated sample transfer processing system, together with ZLIMS automatic laboratory information management system, provides a perfect automatic solution for the current large population detection, which greatly relieves the pressure of space, time and personnel in the testing laboratories.
In addition, MGI's high-throughput automated nucleic acid extraction equipment, MGISP-960, and extraction reagents have become the powerful "anti-epidemic weapon" for countries around the world to rapidly increase nucleic acid testing capacity. At present, MGISP-960 operates in many "Huo-Yan" laboratories around the world.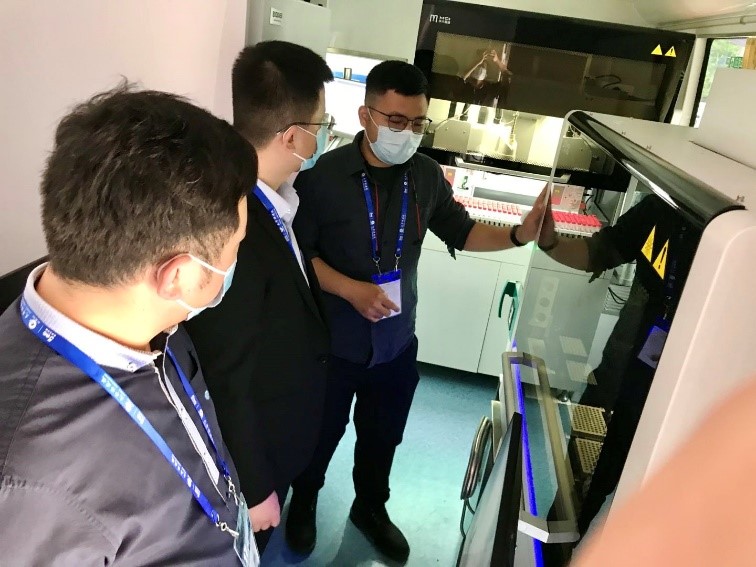 MGI's staff is introducing MGISP-960 and MGISTP-7000
"It is safe to say that the vehicle-mounted nucleic acid testing labs, co-developed by Wuhan Bus and MGI, is one of the currently most efficient and mobile solutions on the market in China." said Gao Tao, Chairman of Wuhan Bus.
In September this year, the First Batch of "Huo-Yan" Mobile PCR Lab were delivered to key medical and health institutions in Sichuan. On November 9, Hubei's first vehicle-mounted nucleic acid testing lab, jointly developed by MGI and Wuhan Bus, was officially launched, and meanwhile, a government procurement ceremony was held. On November 11, Wuhan Guanggu® vehicle-mounted nucleic acid testing lab and "Huo-Yan" lab were exhibited at the Second World Health Expo.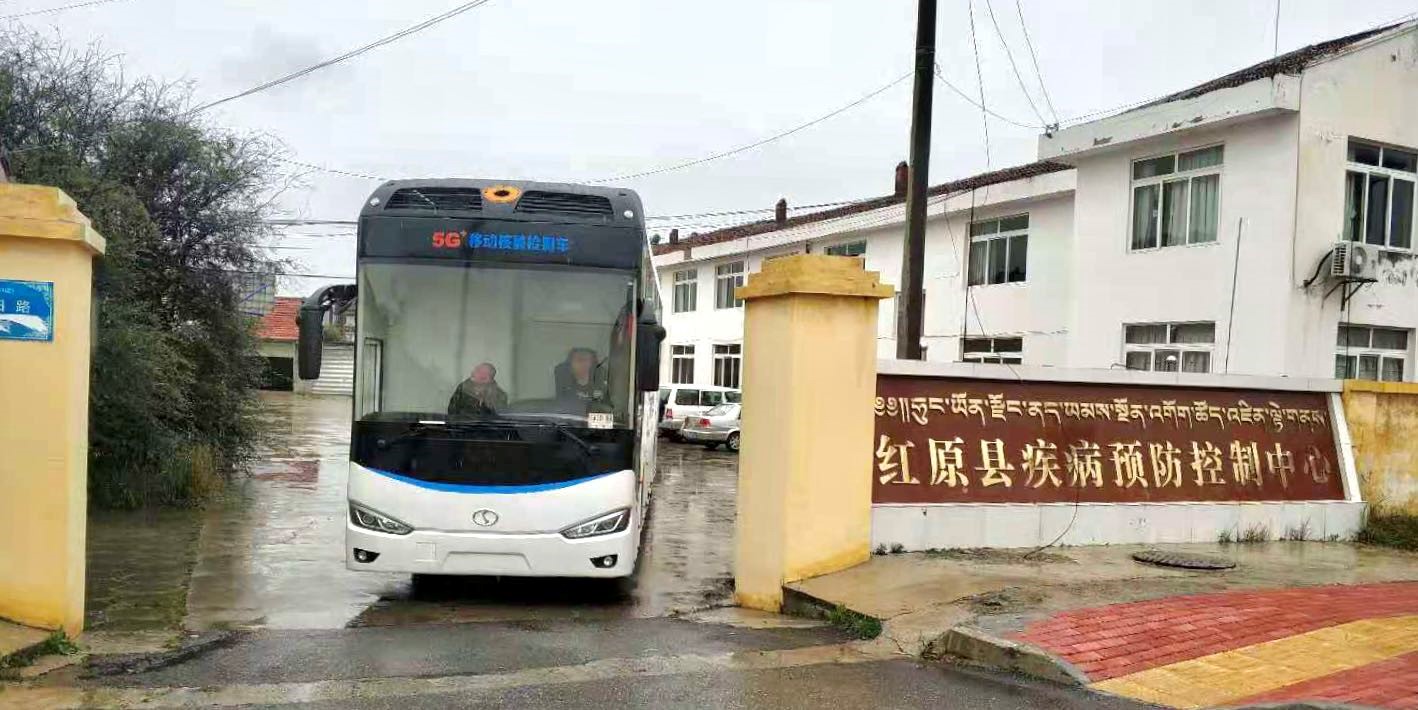 Before the official launch of "Huo-Yan" Mobile PCR Lab, it was delivered to Hongyuan County at an altitude of 3,500 meters for nucleic acid testing, with the purpose of ensuring the stability of the detection data under different environments.
Relying on its R&D capability for the "hard core" equipment such as automated sample processing systems and automated sample transfer processing systems, MGI has successively introduced a wide range of solutions, such as integrated automated nucleic acid testing lab,"Huo-Yan"lab in tent, and vehicle-mounted nucleic acid testing lab. And they were officially launched in cities like Chengdu, Chongqing, Ganzhou, Xiamen, Wuhan, Lanzhou, Xi'an and other places. It can flexibly provide nucleic acid testing services for local people and quickly improve the efficiency of nucleic acid testing.
MGI's mobile nucleic acid testing solution can provide fast and accurate early warning and detection in response to new and public health emergencies. At the same time,it can also carry out genetic testing related to birth defects, malignant tumors, metabolism, and cardiovascular and cerebrovascular diseases to make a demonstration for building a "Chinese model" for the reform of disease control system and the "new infrastructure" of public health.