The world's first high-throughput automated sample transfer processing system, MGISTP-7000, received Class I medical device qualification by the China National Medical Product Administration (NMPA) on August 7, 2020, allowing it to enter the Chinese market. It also received the EU CE marking on August 14, 2020, which means the product has been approved to enter the EU market.
MGISTP-7000 is our high-throughput automated sample transfer processing system, which integrates tube uncapping, tube recapping, barcode identification, automated liquid transfer and negative pressure protection. With just a single-click, it can load original samples with caps, and transfer up to 192 samples from airtight sample tubes or plain tubes to 96-well microplates in 40 minutes, with zero human contact during the process.
The approved listing of MGISTP-7000 means that it will be fully introduced to the market and widely used in virus sample collection tube dispatching, microbial detection, clinical sample dispatching, biological sample collection tube dispatching and other fields. The processed sample plate can be directly used for subsequent automatic nucleic acid extraction and detection, and can be connected with MGISP-960 automated nucleic acid extraction equipment made by MGI, thus further speeding up the sample processing, improving the large-scale detection capacity and consolidating the epidemic prevention achievements.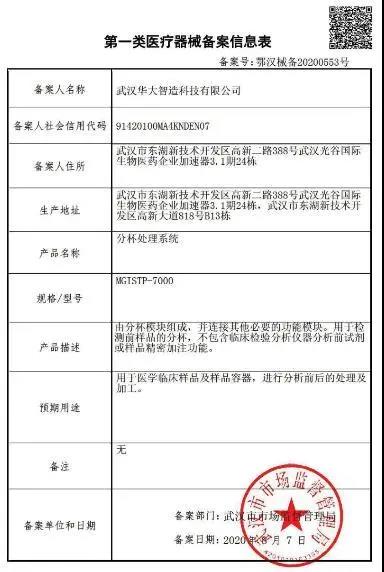 Safe and Reliable
Tailor-made for nucleic acid detection in the COVID-19 outbreak
MGI's high-throughput automated sample transfer processing system, MGISTP-7000, is specially designed for nucleic acid detection in the COVID-19 pandemic. It integrates barcode scan, information check and automated liquid transfer into a closed system, which can complete tube uncapping, barcode identification, sample dispatching, tube recapping, with a single-click, and only requires manual placement of samples. The system supports the direct sampling of throat swab and nose swab sample collection tube without taking out swabs in advance. It is also equipped with liquid level sensor, which can complete the plate transfer of COVID-19 samples in an efficient, stable and reliable way. After the sample is dispatched, the recapping module immediately closes caps and recycles tubes automatically. In the whole process, the lab technicians have zero contact with novel coronavirus samples to ensure a safer working environment for lab operators.
In addition, MGISTP-7000 adopts the negative pressure system and ultraviolet disinfection system, and the intake and exhaust piping are equipped with independent HEPA-filtration, achieving a cleanliness standard of ISO 5. In the operation process, the air is filtered into the equipment first, and the air inside the equipment will be vented to the outside through the filtration, which can avoid aerosol pollution and ensure safety and reliability.
Automated and highly efficient
Provide powerful tool support for large-scale detection
The MGISTP-7000 is equipped with four sets of tube uncapping, tube recapping, and barcode identification modules, with high parallel processing efficiency. It only takes 15 seconds to complete a single sample pretreatment. And it can transfer 192 samples from airtight sample tubes or plain tubes to 96-well microplates in 40 minutes, which helps to decrease tedious sample pre-analytical steps and reduce the workload of lab technicians. At the same time, it also supports multi-sample mixed sampling, laying the foundation for large-scale screening, and helping to shorten the time needed for issuing a nucleic acid test report to the 4 hours proposed by the National Health Commission of the People's Republic of China.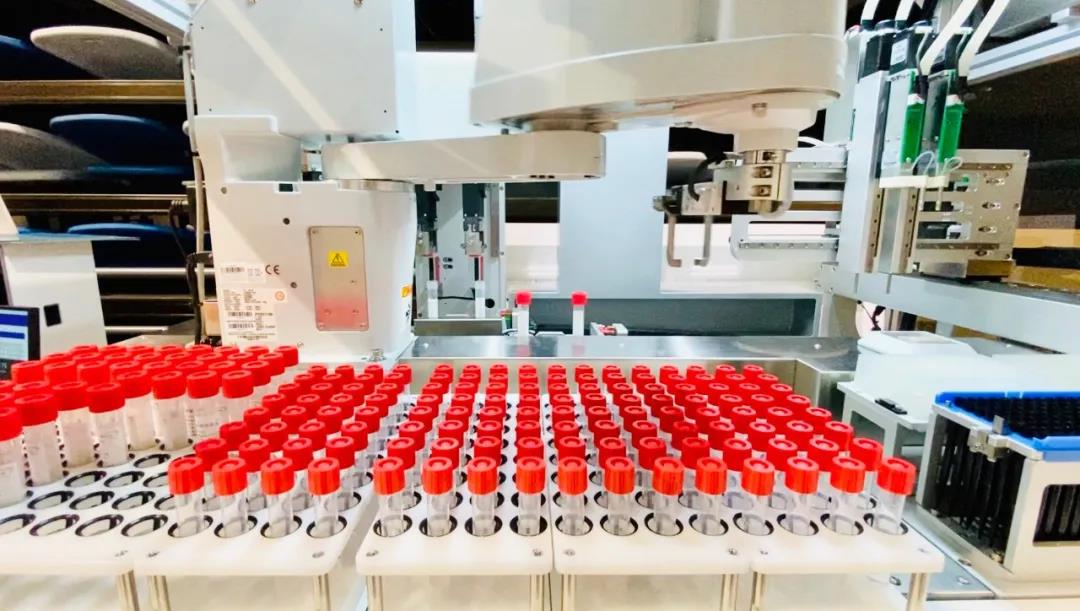 MGISTP-7000, the high-throughput automated sample transfer processing system developed by MGI, is processing samples
It is worth mentioning that during the operation, MGISTP-7000 can automatically record the information of original sample and sampling, no need for manual cross-checking of the information. MGISTP-7000 can connect with ZLIMS system, which is a powerful laboratory management software made by MGI, to record the experimental data, monitor the real-time status of instruments and samples, and provide automatic management of the whole process from barcode identification, sample dispatch, nucleic acid extraction, and fluorescence quantitative PCR detection to report distribution. Finally, the automation, informatization and intelligent management of the laboratory can be realized.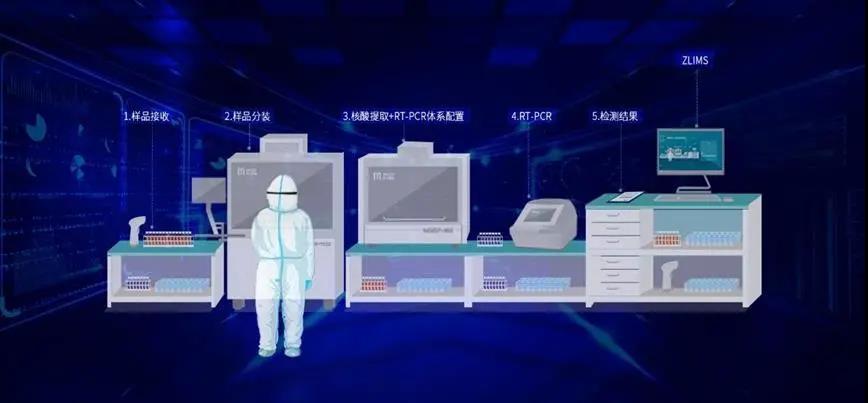 MGISTP-7000, the high-throughput automated sample transfer processing system, developed by MGI, brings great convenience to the automated workflow
Independent research and development
Provide powerful tools for epidemic prevention and control
MGISTP-7000, a high-throughput automated sample transfer processing system, fully demonstrates the independent research and development ability of MGI, which can complete single sample dispatching in 15 seconds, and two MGISTP-7000 can realize accurate dispatching of 10,000 samples in 24 hours. Also, the machine has a very high degree of automation, which integrates the whole process of sample dispatching, and the manual operation time only accounts for 10%. The sample plate can be compatible with the regular automated nucleic acid extraction equipment on the market, and is seamlessly connected with MGISP-960 nucleic acid extraction instrument and ZLIMS system of MGI, further improving the degree of automation and accelerating the speed of sample detection.
A complete set of COVID-19 solutions, based on MGISTP-7000 high-throughput automated sample transfer processing system,MGISP series automatic nucleic acid extraction equipment and ZLIMS automatic laboratory information management system, provides a perfect automatic solution for the current large population detection, which greatly relieves the pressure of space, time and personnel in the testing laboratories. Taking the cabin lab with a daily detection capacity of 5,000 cases as an example, this solution can support a 30-square-meter cabin lab to be put into use immediately, with degree of automation as high as 80%, providing a powerful detection tool for the fight against the epidemic on the frontline.