In this global epidemic, a group of unknown people who brave the winds and waves to support the global pandemic response. They are the support team of MGI who worked day and night to help with the installation, debug and training of equipments, so as to ensure that all of the equipments can be put into use in time, and provide powerful support and guarantee for overseas epidemic prevention and control. Today, let us together hear about the story of our oversea colleague, Riddhi Patel, who is based in Berlin, joined MGI at July, 2019 as a Field Application Scientist.
When asked why she wanted to join MGI, "My PhD was all about genomics, DNA, and MPS technology, and I was always fascinated about this new emerging technology", so it was mainly because of my curiosity about the researches that MGI is doing and the trust about the innovation of the technology, and I really admire the idea that we always need competition in the market. And MGI is always striving towards the goal of providing the industry with "the right to another choice." Riddhi replied.
"I remembered that in January, we won't even think about it being in here, in Germany, in Europe. We had this big European meeting took place in early February, and the MGI management team was flying here. While in the end of January, there was 7 patients here in Germany, so the meeting was cancelled, and we had to do all the workshops online. At that time, we would never think about this would be going this big."
"The situation is way more serious than I can imagine. When I was told to fly to France for the installation and training. It took all the troubles to get there, and when I first arrived, there was hardly anyone at the airport, and no restaurant was open, no cars in the street. The whole city was literally lockdown. It's like crazy, I could not believe what I was seeing." Riddhi said with surprise.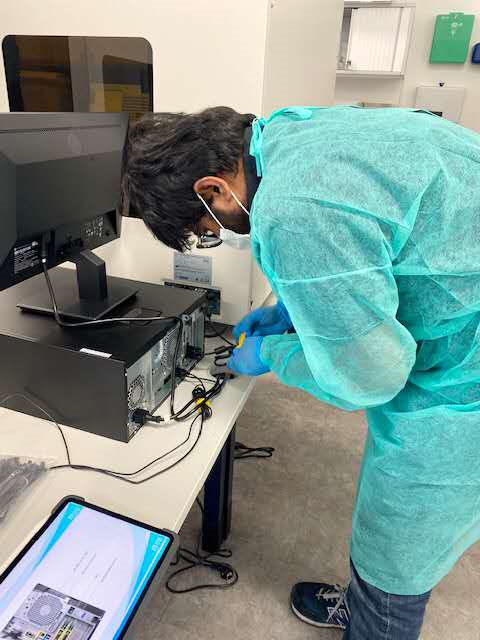 Riddhi's husband is helping to install the device
Merciless as the virus is, we human beings are sympathetic and caring. "In the crisis of fighting the epidemic, I am very moved to fight side by side with every colleague. It is the joint efforts of all of us that we can work together to fight the epidemic. At the same time, I am also very grateful to my family for their support and understanding for my work, especially my husband. "Riddhi said. At that time, in Bavarian lab in Germany, we were in urgent need of engineer to complete the equipment installation. Due to the impact of the epidemic, however, there was no flight and no engineer could travel. Under this circumstance, Riddhi's husband, who are not MGI's employee, offered to help with installation of the machine.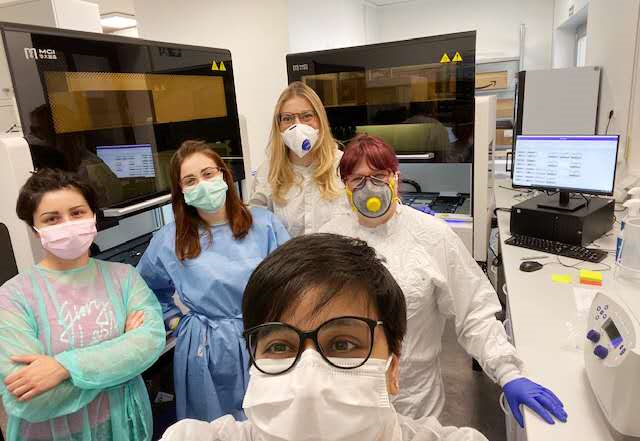 Customer in Bavarian clinic happy with the test from MGISP-960
Riddhi also said that it is the happy faces of our customers that makes her feel the happiest, "everytime when we get positive feedbacks from our customer, knowing that our devices helped to take a lot of burden down from their shoulders, which is always the biggest motivation for us. You can see all the hospitals are working 24/7 at this time, and they are always understaffed, so I realized that at my age, there was no excuse to say no if I know something and that my knowledge can help the community. And if I could have a second chance, I would make the same choice."
"Customer's feedback":
"We are very happy with the MGISP-960, it purifies the RNA from our sample very well."
——Marianne from Denmark
"We finished our first complete run with MGISP-960 yesterday and it went well. We compared the extraction and PCR to the other platforms have in the lab and they had the same level of performance…so everything went as according to plan."
——Martin from Denmark
"We get more and more samples per day and everything is going well. Prof. Pfaffl tested the PCR Kit on their machines and they are very happy with the results!"
——Louisa from Bavarian clinic
"Extraction with the MGISP-960 system has a similar or even slightly better sensitivity for the detection of COVID-19."
——KI Hospital_Sweden
Also, as an employee of MGI, I'm happy to join the big family, and I feel so proud of what MGI is doing right now. MGI was the first to stand out to provide a timely, comprehensive, and effective solution to help all the countries together fight against the COVID-19 pandemic.