MGI has continued to advance lab automation with the launch of the first-of-its-kind high-throughput automated sample transfer processing system, MGISTP-7000. The product received the EU CE marking on August 14, 2020 and received Class I medical device qualification by the China's NMPA on August 7, 2020, which streamlines the efficiency of front-end infectious sample handling across multiple regions.
MGISTP-7000 integrates tube uncapping, tube recapping, barcode identification, automated liquid transfer and negative pressure protection. With just a single-click, it can load original samples with caps, and transfer up to 192 samples from airtight sample tubes or plain tubes to 96-well microplates in 40 minutes, with zero human contact during the process.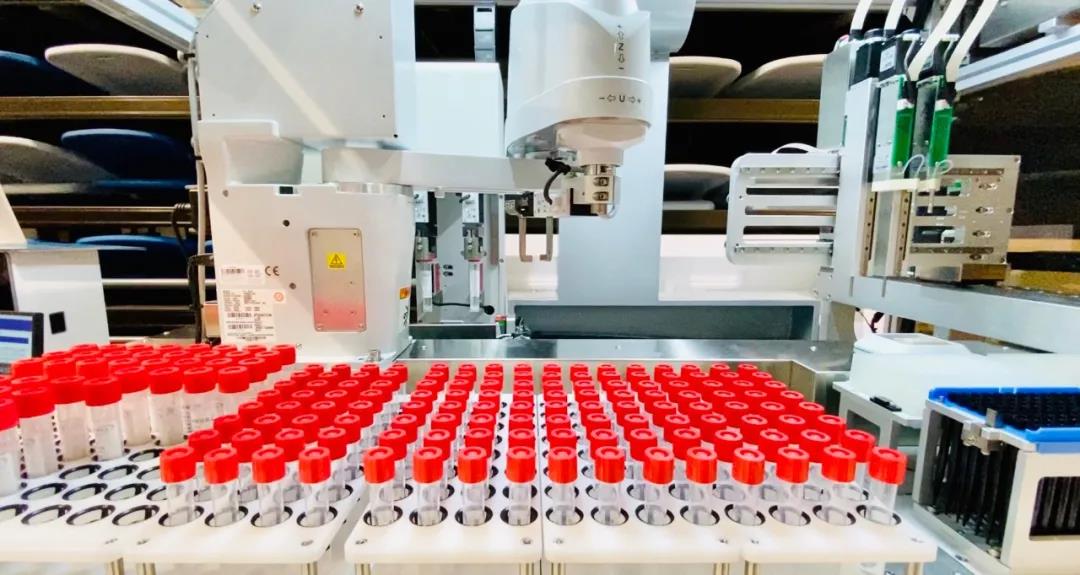 MGISTP-7000, a high-throughput automated sample transfer processing system developed by MGI, processing samples
The MGISTP-7000 high-throughput automated sample transfer processing system is specially designed for nucleic acid detection in the COVID-19 pandemic. The system supports the direct sampling of throat swab and nose swab sample collection tube without taking out swabs in advance. It is also equipped with liquid level sensor, which can complete the plate transfer of COVID-19 samples in an efficient, stable and reliable way. After the sample is transferred, the recapping module immediately closes caps and recycles tubes automatically.
The sample in the plate can be directly used for subsequent automatic nucleic acid extraction using MGISP-960 automatic nucleic acid extraction equipment made by MGI. This further speeds up the downstream detection and improves accuracy, efficiency and throughput for large-scale detection of the SARS-CoV-2 virus, using RT-PCR tests. It also supports sample pooling, laying the foundation for even more efficient large-scale screening. It shortens the turnaround time for a test report to just 4 hours.
In addition, MGISTP-7000 adopts the negative pressure system and ultraviolet disinfection system, and the intake and exhaust piping are equipped with independent HEPA-filtration, achieving a cleanliness standard of ISO 5. This directly results in an improvement of the infectious sample handling safety and reduces the need for costly PPE sample handling equipment such as biosafety hoods.
The MGISTP-7000 sample plate is compatible with the standard automatic nucleic acid extraction equipment on the market and is seamlessly connected with MGISP-960 nucleic acid extraction instrument using MGI ZLIMS system for sample management. The system can be connected to other commonly used LIMS systems on the market.