At MGI Technology and Application Conference of Genomics (TACG) held on October 25 during ICG-13, Dr. Andreas E. Posch, CEO of Ares Genetics, a Curetis Group company gave a speech about the collaboration project between MGI and Ares Genetics aiming at developing NGS-based infectious disease and antibiotic resistance diagnostics solutions.
"Currently, drug-resistant infections affect millions", said Dr. Posch in his speech, "but the diagnostic practice is slow and incomplete, which results in more than 50% of patients being treated inadequately, and 700,000 patients dying of these infections every year."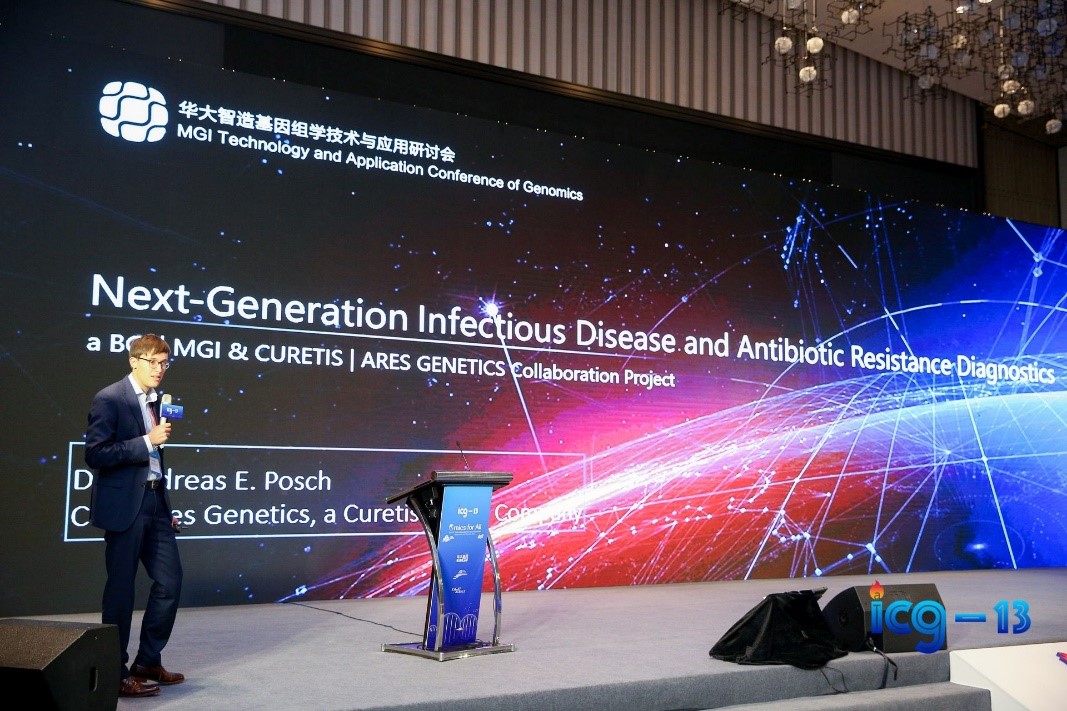 Addressing the issue of rapidly emerging antibiotic resistance, Ares Genetics, the Curetis Group and MGI have announced a broad partnership in NGS-based infectious disease diagnostics at ICG-12, September 2017. The collaboration aims at developing NGS-based precision diagnostics, translating success stories from cancer to infectious diseases. At this years' TACG at ICG-13, Dr. Posch presented results and significant progress towards a universal package for infectious disease and antibiotic resistance diagnostics combining the Curetis Unyvero L4 Lysator, MGI DNBseqTM technology, and ARES' Antibiotic Resistance Database (ARESdb).
Dr. Posch explained that the integrated package in development will comprise of the following steps:
1.Processing of any native patient sample with the Curetis UNYVERO L4 Lysator.
Using the UNYVERO L4 Lysator, all native patient samples (such as sputum, lavage, aspirate, tissue/bone, gastric juice, punctate, drainage, etc.) can be reliably processed, replacing otherwise tedious and time-consuming traditional, manual methods.
2.Execute high quality bacterial DNA sequencing with MGI DNBseqTM technology.
After automated sample preparation and library building by MGISP-100, the MGI DNBseqTM technology allows DNA sequencing with high sensitivity and specificity. The comparison results for bacterial de-novo assembly showed that the performance of MGI sequencers is similar to that of Illumina.
3.Automated reporting and actionable insights informed by ARESdb.
ARESdb is the world's largest knowledgebase and interpretation engine for genetic antibiotic resistance markers and predictive antibiotic resistance panels. ARESdb enables pathogen identification from NGS raw data with up to >99% accuracy and antibiotic resistance detection with up to more than 98% accuracy.
Compared with other technologies and manual workflows, the integrated MGI & Curetis NGS-based approach will be designed to reliably process all native patient samples with high sensitivity and specificity and deliver actionable insights within 24 hours.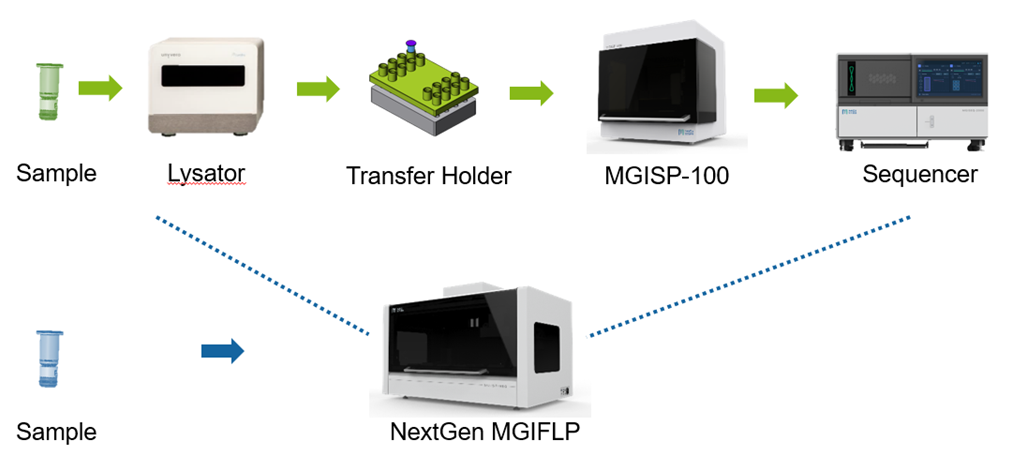 Since the start of the collaboration in 2017, MGI and the Curetis Group have worked on combing UNYVERO L4 Lysator with MGI technology for workflow integration, as well as combining the DNBseqTM technology with ARESdb for pathogen and antibiotic resistance detection. At this years' TACG, the partners announced that they will continue to work on the development and validation of the NGS assay and reporting application based on ARESdb, to finally accomplish seamless integration of LYSATOR with MGI Technology. "Our goal is to process samples of any type automatically, perform automated sequencing and automated interpretation to rapidly provide actionable insights that facilitate precision therapy." said Dr. Posch.
Besides continuously innovating sequencing technology, MGI is making tremendous efforts to enrich ranges of applications based on its proprietary sequencing platforms. The collaboration with the Curetis Group is a perfect illustration.
About Curetis and Ares Genetics
Curetis N.V.'s (Euronext: CURE) goal is to become a leading provider of innovative solutions for molecular microbiology diagnostics designed to address the global challenge of diagnosing severe infectious diseases and identifying antibiotic resistances in hospitalized patients.
Curetis' wholly owned subsidiary Ares Genetics GmbH offers next-generation solutions for infectious disease diagnostics and therapeutics. The ARES Technology Platform combines the world's most comprehensive database on the genetics of antimicrobial resistances, ARESdb, with advanced bioinformatics and artificial intelligence.
For further information, please visit www.ares-genetics.com and www.curetis.com.
About MGI:
MGI Tech Co., Ltd. (MGI), a subsidiary of BGI Group, is committed to enabling effective and affordable healthcare packages for all. Based on its proprietary technology, MGI produces sequencing devices, equipment, consumables and reagents to support life science research, medicine and healthcare.
MGI's multi-omics platforms include genetic sequencing, mass spectrometry and medical imaging. Providing real-time, comprehensive, life-long packages, its mission is to develop and promote advanced life science tools for future healthcare.