The pandemic has recently been spreading rapidly across the world, posing a formidable challenge to global public health security. The current epidemic situation is still grim and complex. As an important measure for the COVID-19 prevention and control, how to improve the capacity of nucleic acid detection has attracted great attention from all countries.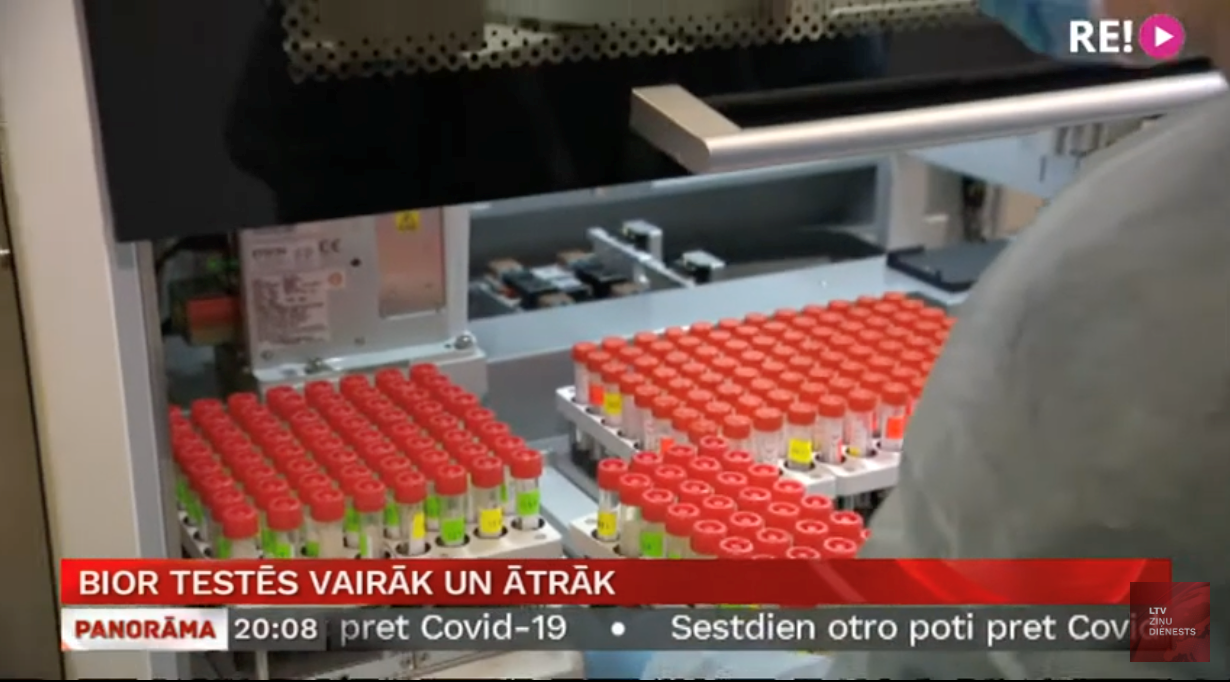 As reported on LSM.lv Latvia's national television, Scientific institute 'Bior', which is one of the Covid-19 testing labs in Latvia, will now be able to prepare test samples in larger volumes and more quickly. The preparation of samples, which is a time-consuming process, will be completed by MGI's high-throughput automated sample transfer processing system, MGISTP-7000, in the future. The facility will allow up to ten thousand samples a day. The cost of tests could also shrink.
"The robot grasps and unscrews a test tube, takes a sample and transfers it to a tray that will be operated by other equipment, analyze and detect the presence of the virus. A robot does it faster than a human. Bior researchers need to unscrew hundreds and even thousands of test tubes a day by hand. The robot works at a speed of 192 samples in 40 minutes. It saves a lot of the work force." said Bior representative Irēna Meistere.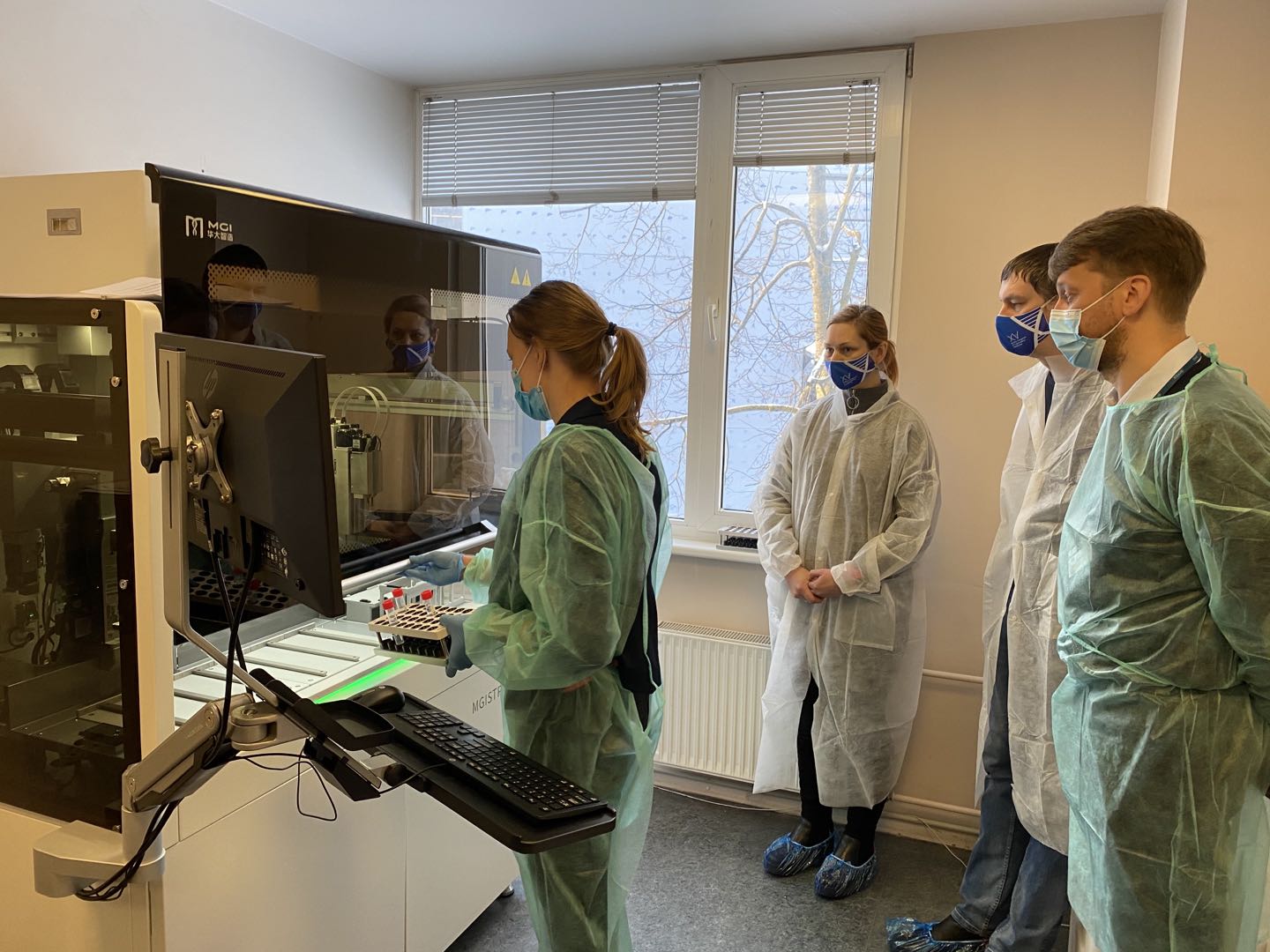 MGISTP-7000 in the lab of Scientific institute'Bior'
MGI's high-throughput automated sample transfer processing system, MGISTP-7000, is specially designed for nucleic acid detection in the COVID-19 pandemic. It integrates barcode scan, information check and automated liquid transfer into a closed system, which can complete tube decapping, barcode identification, sub-packaging, tube recapping,with a single-click, and only requires manual placement of samples.The sample in the platecan be directly used for subsequent automatic nucleic acid extraction using MGISP-960 automatic nucleic acid extraction equipment made by MGI.Asthe whole process is automatically completed by the machine, it can greatly contribute to the large-scale testing and improve the local detection efficiency.
"MGISTP-7000 can load original samples with caps and transfer up to 192 samples from airtight sample tubes or plain tubes to 96-well microplates in 40 minutes. The facility allows up to ten thousand samples a day to be prepared. The robot doesn't get tired, he can't get confused,the robot is very accurate.This excludes the human factor. The robot makes it possible to increase capacity. Together with the costs of reagents, this makes it possible to reduce costs per sample." explained Olga Valciņa, deputy director of Bior laboratories.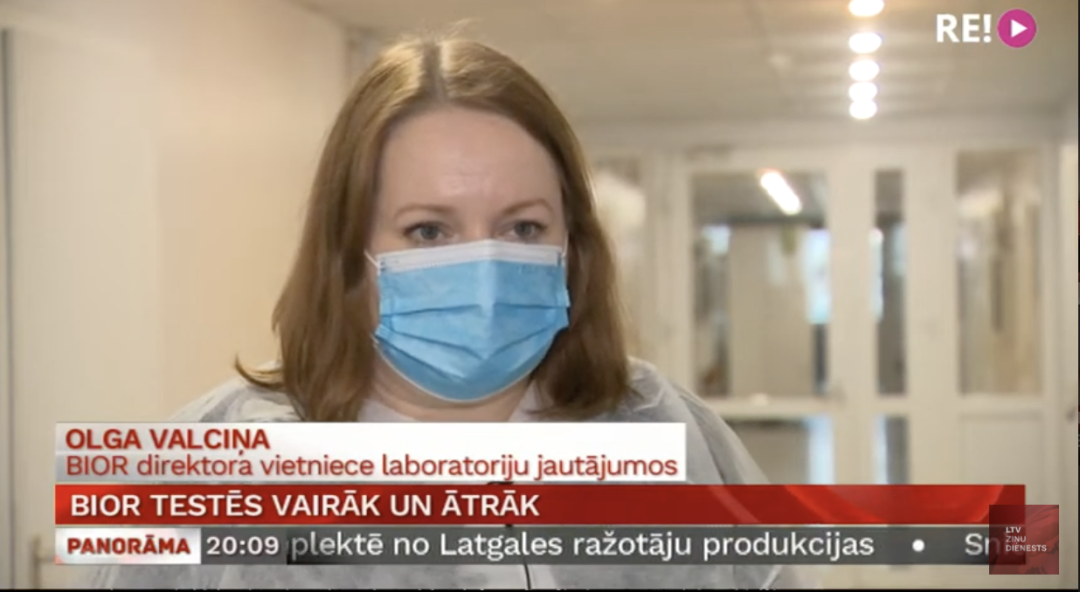 As Bior estimates, the cost of one saliva test could reduce from the current €38 to €25, with the use of automatic virus nucleic acid extraction equipment in Latvia.
Latvia-based biotech company Lativia MGI Tech ("MGI Latvia") and its construction partner "APB" begin to produce Automated & Integrated Container Laboratory. The container lab is built in a 12-meter shipping container and equipped with automation equipment produced by MGI enabling the laboratory technicians to perform Covid-19 testing. Compliant with P2 laboratory standard, the laboratory consists of three main functional areas: reagent preparation room, sample processing room and testing room. At the same time, it adopts the negative pressure system and ultraviolet disinfection system, and is equipped with a changing room, air conditioning and an electromechanical room. In the operation process, the lab technicians will follow one-way process to avoid cross contamination. Windows and a buffer room are used to separate the lab area to avoid aerosol pollution and ensure a safe environment for the operators.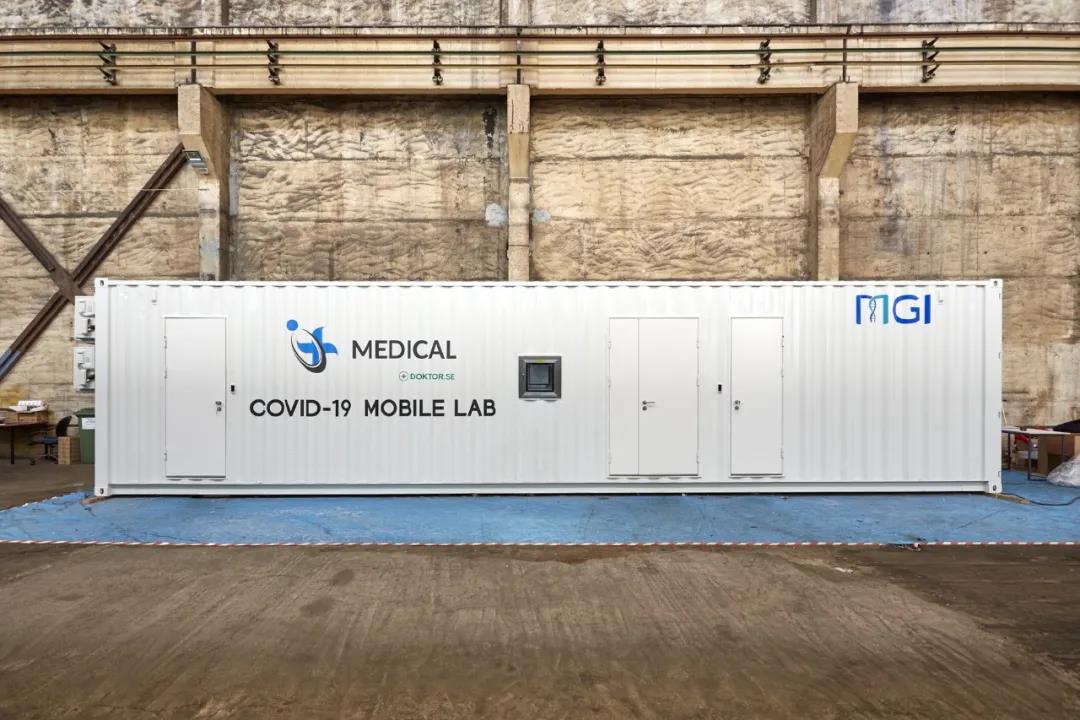 Thanks to the process automation, the container lab significantly reduces the infection risk for the laboratory technicians. The container lab not only provides a testing capacity of up to 3,000 samples a day, but also minimizes the manual process. It takes only three laboratory technicians to finish the whole process, whilst it would need dozens of technicians to process the same number of samples. The container lab greatly shortens the turnaround time for a test report, helping to quickly track the spread of the virus.
On November 26, 2019, MGI officially opened a new R&D and manufacturing facility in Riga, Latvia, aiming to build a bridge between China and Europe for health science innovation. It is the first life science and technology center set up by a Chinese enterprise in central and eastern European countries.
"The opening of the facility represents a huge investment in high value-added products." Said Minister Ralfs Nemiro. "MGI's world-leading genetic sequencing technology and equipment will help us to enhance scientific research capabilities in life science and better leverage our own strengths."
"MGI-Latvia base is a key investment for the development of European business and an important step for MGI's globalization. Based on Latvia's existing biotechnology foundation, MGI is confident to form a life science innovation platform centered on 'gene technology', which will help high-end life science research equipment in China go global." Said Duncan Yu, president of MGI.
Institute "BIOR"

is a research center of national importance which develops innovative research methods and creates new practically applicable knowledge in the following areas of science: public and environmental health, food, fishery and veterinary medicine. In the area of its competence, Institute "BIOR" with its excellent research, technical and developed human resource base is leader in the region.