MGI has announced a major upgrade for DNBSEQ-G50 with improvements to flexibility, turnaround time and performance. The original FC (Flow Cell) with 300M total reads is upgraded to FCL (Flow Cell Large) with 500M total reads, and a new FCS (Flow Cell Small) has been released with total reads of 100M. In addition, a longer read length of PE150 has been released, and the sequencing chemistry has been optimized to provide shorter turnaround time and better data performance. With this upgrade, users now have flexible options for more applications.
Increasing data output and reducing running cost
Since its launch in 2017, MGI's DNBSEQ-G50 sequencer has become a popular choice for small and medium-sized laboratory users because of its comprehensive overall package and flexibility. This upgrade is designed to further meet increasingly demanding needs, providing convenience and additional options for different scenarios.
The upgraded DNBSEQ-G50 sequencing reagents generate more data output with a lower cost per sample. Now, users can get more data (FCL, 500M) at the same price as the original sequencing reagent kit (FC, 300M). This means a more than 50% increase in data output and a 40% reduction in cost per sample.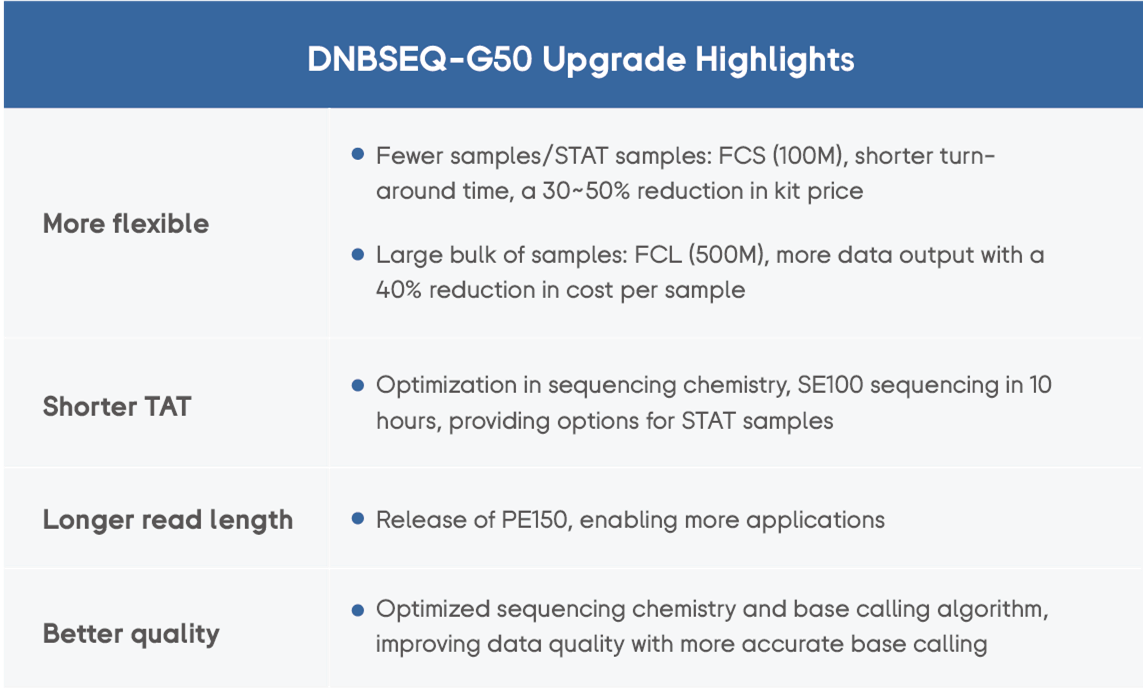 Shorter TAT for single-end sequencing and better quality for paired-end sequencing
This upgrade includes optimization of sequencing reagent chemistry, further shortening single-end sequencing time. Taking the FCS reagent kit as an example, SE100 sequencing can generate at least 10Gb of data in 10 hours. This is especially useful under scenarios such as ICU or disease outbreaks when identifying pathogen quickly is important. For paired-end sequencing, the optimized reagent chemistry and base calling algorithm improves the overall sequencing quality. For example, upgraded DNBSEQ-G50 has been proved to detect low-frequency mutations down to 0.5%, which can be used as an effective tool for precision medicine.
This upgrade has been validated and adopted by a number of early users in different applications. The results from these early users show that the upgraded DNBSEQ-G50 is consistently generating satisfying results. Compatible applications are shown below.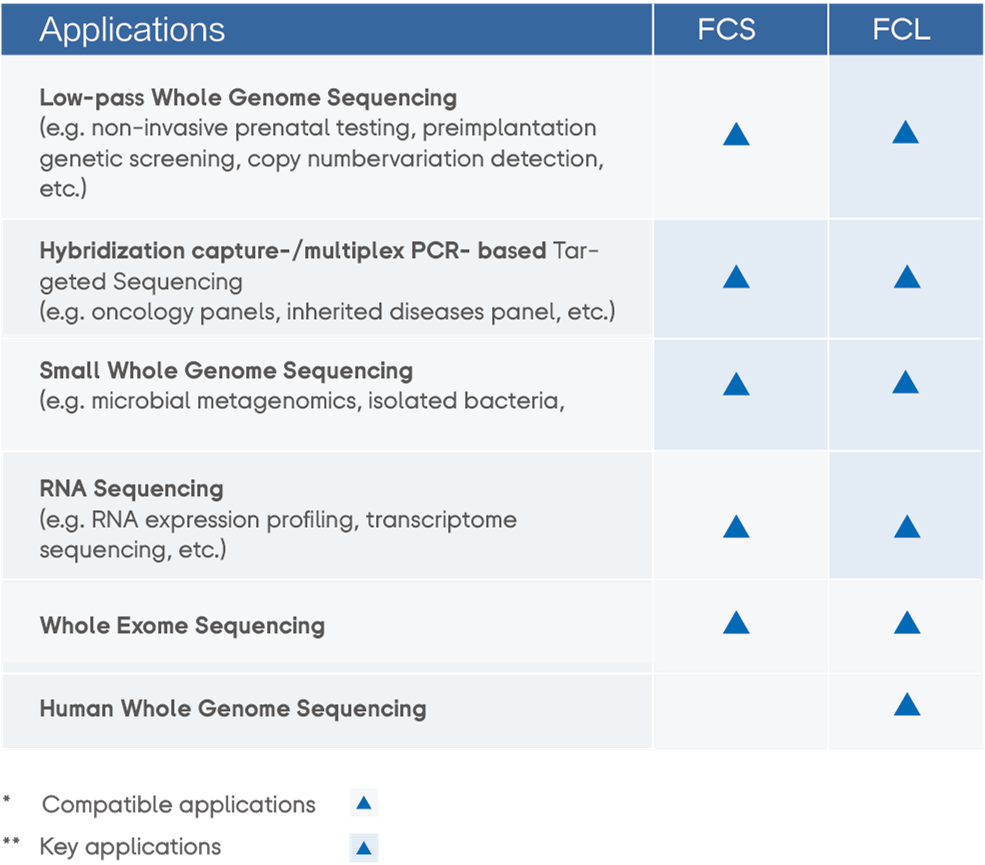 Testimonials:
Our laboratory is using DNBSEQ-G50 to offer sequencing service on cancer samples. DNBSEQ-G50 provides excellent performance in terms of consistency and accuracy. This upgrade meets our clinical needs and gives us more flexibility. Now we can run a smaller batch of samples with faster run time.
——Zhang Lucheng, marketing manager in a clinical services laboratory located in Suzhou
Compared with the original FC, the upgraded FCL has doubled the sequencing throughput, showing great advantages in timing and cost. This improves the serivce capacity of our laboratory. The upgrade makes DNBSEQ-G50 an excellent choice for tumor detection. Compared to large-throughput platforms, it effectively reduces the delay caused by collecting a large enough number of samples for one run. Therefore, it is very suitable for clinical laboratories and helps to improve efficiency. At the same time, it meets the requirement of short turnaround time and helps with accurate tumor detection.
——Liang Jieqin, product manager from an oncology service laboratory located in Shenzhen
The sequencing flow cell is upgraded from the original flow cell (300M) to FCL (500M) and FCS (100M), which is suitable for different scenarios. The upgraded FCL has increased the throughput by almost 100% and the turnaround time is reduced by 3 hours. This is important for timeliness and cost control. In addition, the SE50 sequencing run time is only 6 hours with FCS, which further improves efficiency. This upgrade meets our needs in microbial metagenomic sequencing and therefore benefit the patients.
——Shen Ao, lab manager for a microbiology laboratory located in Tianjin
This upgrade is available to both existing and new customers. Existing customers with a warranty can enjoy free upgrade services (an instrument control software upgrade compatible with the upgraded sequencing reagent kits). New customers can directly purchase the upgraded DNBSEQ-G50 and sequencing reagent kits that are now are available for ordering. For more information, please contact us at MGI-service@genomics.cn or contact the local sales representative in your region.