SHENZHEN, CHINA, November 19, 2020 - The "2020 Shenzhen International Biological/Life Health Industry Exhibition" (hereinafter referred to as the Biological Exhibition) kicked off in Pingshan. As an invited exhibitor, BGI introduced a series of self-developed automation equipment and all-in-one packages for nucleic acid testing at this exhibition.
This exhibition is sponsored by the Shenzhen Municipal People's Government and co-organized by the Shenzhen council for the promotion of international trade and Shenzhen Pingshan District People's Government. It focuses on the whole industrial chain of biotechnology, life sciences, high-end medical devices, biomedicine, chronic disease prevention and treatment.In the context of the 40th anniversary of the establishment of the Shenzhen Special Economic Zone and the global outbreak of COVID-19 pandemic, BGI demonstrated the Huo-Yan air lab and MGI's high-throughput automated sample preparation, MGISP-960, and the remote robotic ultrasound system, MGIUS-R3, at the exhibition.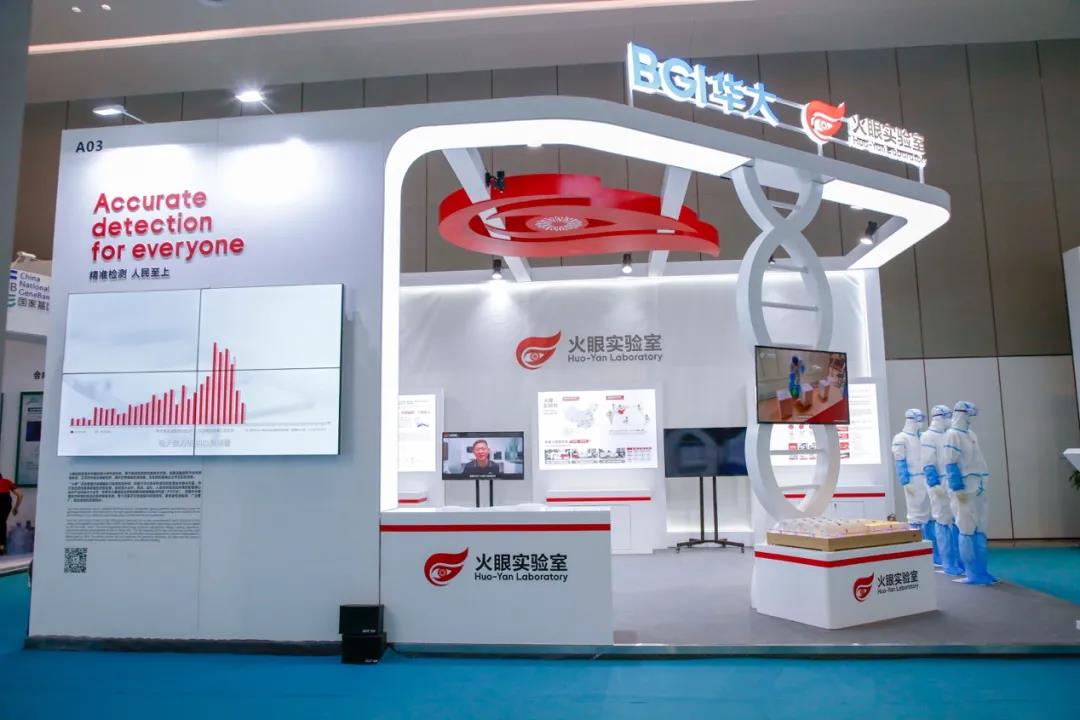 Compared with traditional mobile laboratories, this package integrates BGI's recent experience in nucleic acid detection. It can not only quickly improve the detection efficiency, but also has the notable characteristics of rapid installation and configuration, easy to put into use and high-throughput detection capacity. This mobile package can be delivered to other countries around the world within one week by cargo aircraft and build a 10, 000-level testing laboratory for the large-scale detection of novel coronavirus.

Currently, Huo-Yan Lab has successfully supported global-wide COVID-19 pandemic prevention and control efforts. On May 1, the Harbin Huo-Yan Air Lab, quickly built in 7 days, was officially completed. This is also the world's first air version of Huo-Yan lab officially put into operation. On June 23, Huo-Yan Air Lab was established in Beijing, with a daily detection capacity of 100,000 samples, becoming the world's largest nucleic acid testing laboratory at the time, and accumulatively finished more than 1 million samples testing in Beijing. Huo-Yan Laboratory has become the "Chinese Business Card" in the anti-epidemic action. It has been delivered to Brunei, Serbia, the Philippines, Gabon, Kazakhstan and other countries and regions, and has become a "powerful weapon" for the international community to jointly respond to the COVID-19 pandemic.Huo-Yan Air Lab has built a total of 100 cabins around the world, helping to rapidly improve nucleic acid detection capabilities around the world.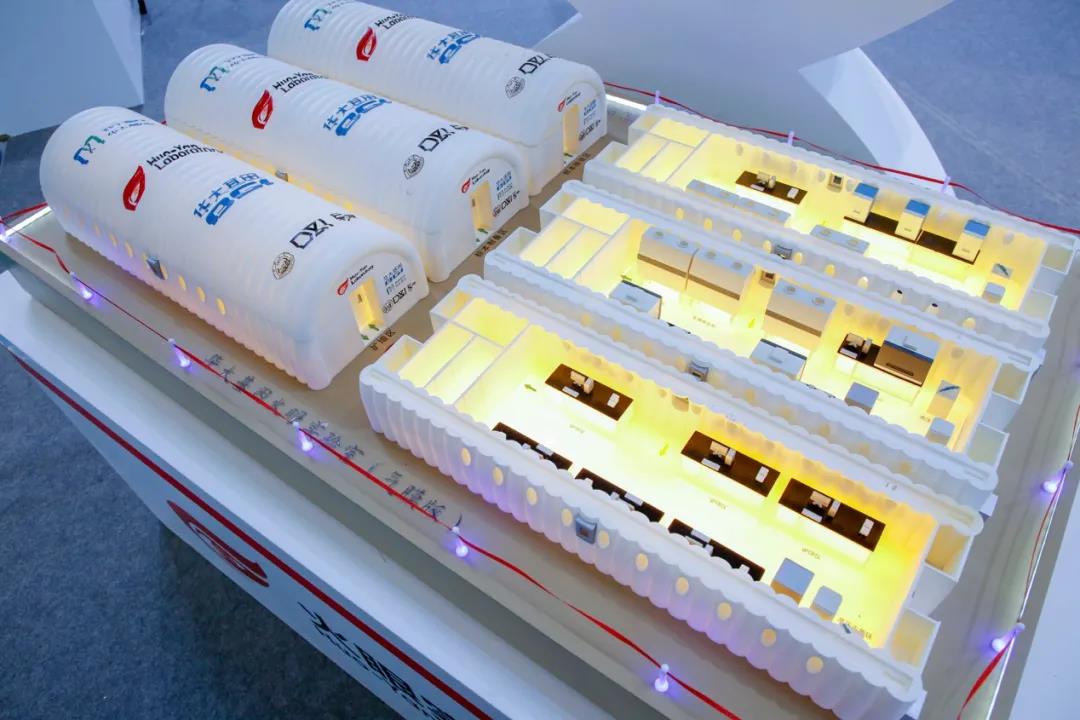 Huo-Yan Air Laboratory (model)

MGISP-960 was also on display, which played an important role in the Global Huo-Yan Laboratory.MGISP-960 High-throughput Automated Sample Preparation System is a high-throughput, flexible and fully automated desktop workstation with a throughput of 192 samples/80 minutes. One person can operate three equipment at the same time, which is a 50-fold increase in throughput compared to manual operation. "The equipment has been operated in many "Huo-Yan" labs around the world, and over 1000 MGISP-960 have been delivered to more than 50 countries and regions.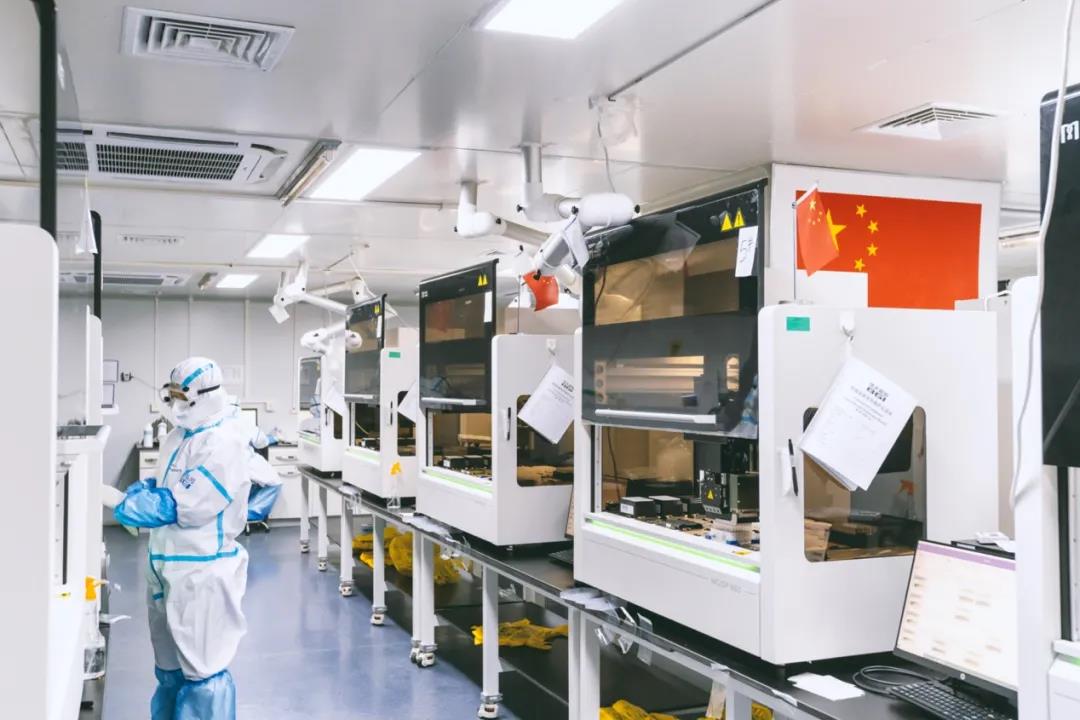 Technicians is operating MGISP-960 in the "Huo-Yan" lab

MGIUS-R3 helps to solve the shortage of medical resources. The use of the remote ultrasound system not only helps distribute high-quality medical resources to aid resource-constrained areas, but it also reduces the risk of cross-infection of medical staff and eases the burden of diagnosis and treatment of COVID-19 patients. During the COVID-19 epidemic, MGIUS-R3 was delivered to front line hospitals 2,000 kilometers away, helping doctors to conduct remote diagnosis, effectively reduce the risk of transmission of COVID-19 to medical personnel and save the lives of patients. For example, MGIUS-R3 has supported Wuhan's mobile hospitals -- Huangpi cabin hospital, Leishenshan Hospital (the hospital for critical patients infected by COVID-19) and Zhongnan Hospital of Wuhan University. MGI's remote ultrasound robot is the world's first ultrasonic device that can achieve "remote real-time diagnosis" without the need for a physician to be at the same location as the patient. MGIUS-R3 can equip multiple sensitive ultrasound probes on its robotic arm, which can be operated by a doctor through a control system up to 1,000 kilometers away. So far, MGIUS-R3 received Class III medical device qualification by the China National Medical Product Administration (NMPA) in May. And MGIUS-R3 was also certified through the EC Full Quality Assurance System in March 2020.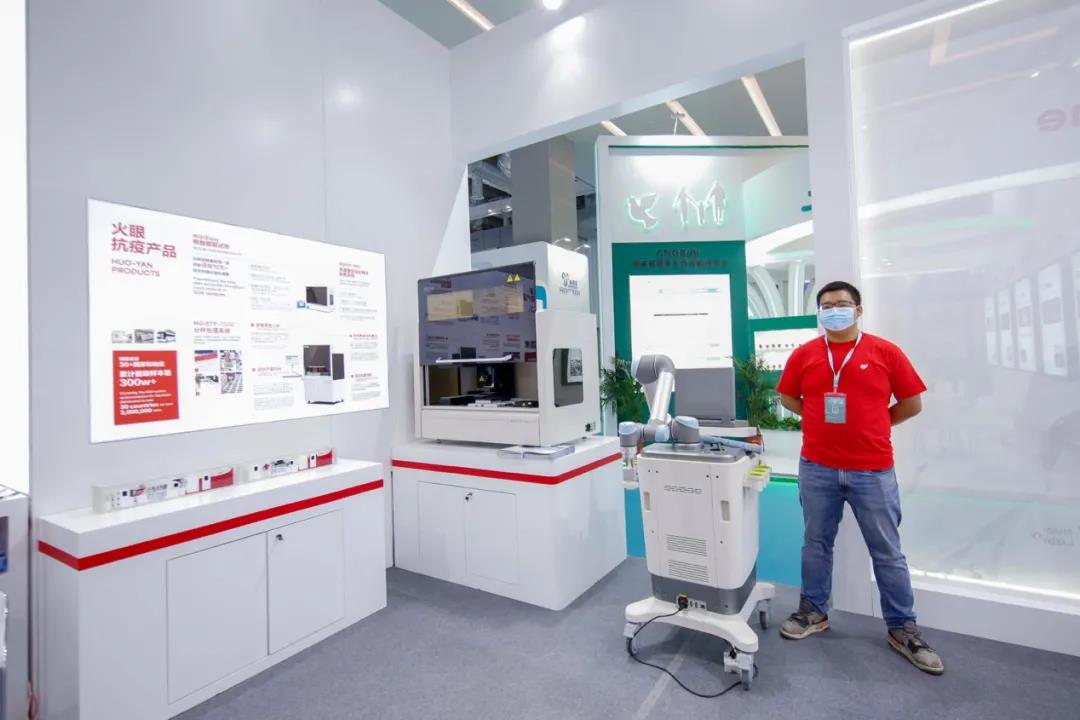 During this special period of time, BGI demonstrated its Huo-Yan Laboratory and MGI's various high-throughput automated equipment at the Biological Exhibition. It showcased BGI's cutting-edge achievements in the integration process of scientific discovery, technological invention, and industrial development to promote the "Huo-Yan" lab model to help new public health infrastructure.