WUHAN, CHINA, October 26, 2020 – MGI officially launched its DNBSEQ-T10×4RS Genetic Sequencing System at the 15th International Conference on Genomics (ICG-15) in Wuhan. This solution integrates sample pretreatment, library preparation, high-throughput sequencing, genetic data management, and more. Each sequencing laboratory will be able to achieve an annual throughput of 50,000 to 1 million whole genome sequencing (WGS), with a fully automated process from sample to report.
"We can see that in recent years, large-scale population genomics sequencing and analysis has become a new trend, and national genome sequencing projects have continued to emerge. The implementation of large-scale population genomics projects worldwide has put forward higher requirements for the technology of high-throughput gene sequencing platforms and the throughput, cost, accuracy and intelligence of gene sequencing solutions. MGI also hopes to contribute to this effort." said MGI Senior Vice President Ni Ming.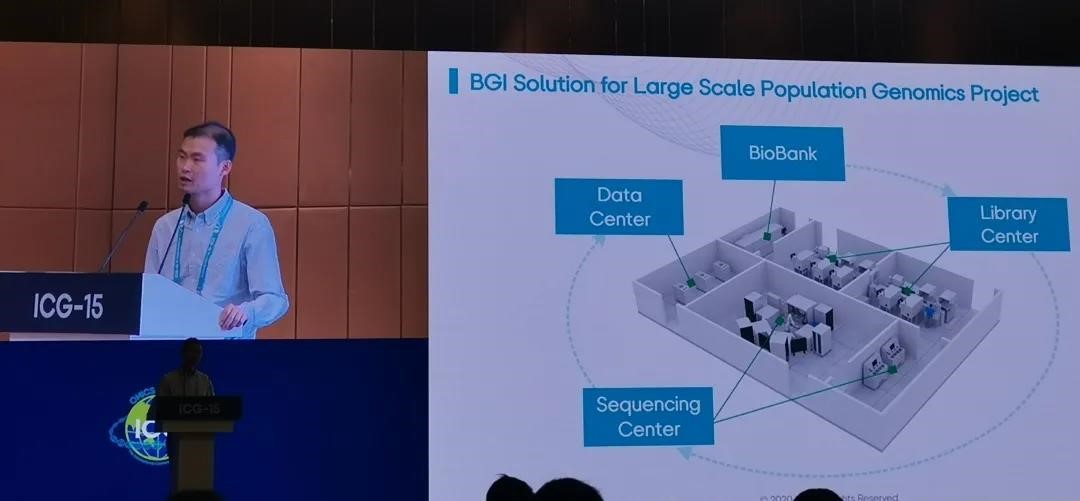 Ni Ming, Senior Vice President of MGI, is introducing the solution
MGI Total Solution for Population Genomics
Four Modules with Flexible and Customizable Automation
MGI Total Solution for Population Genomics consists of four core modules: biobank, library center, sequencing center, and data center. Among them, the main function of the biobank is to separate whole blood into plasma and buffy coat for gDNA extraction; the library building center is divided into two parts, library preparation (from gDNA to library construction) and DNB preparation (from library to DNB making).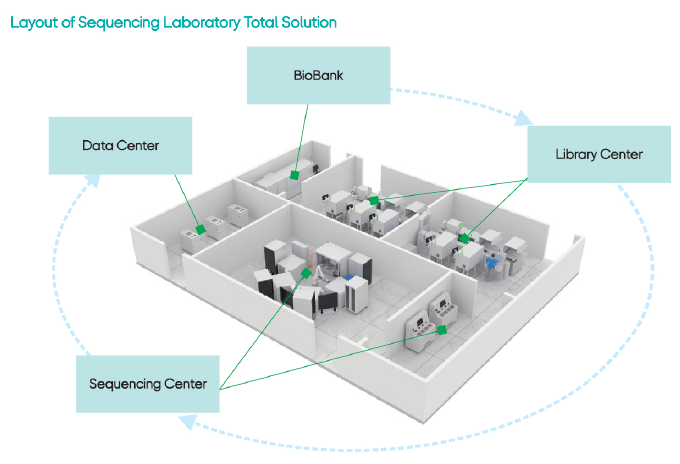 The sequencing center of this solution is equipped with MGI's DNBSEQ-T10×4RS Genetic Sequencing System, which is an ultra-high-throughput sequencer based on DNBSEQTMsequencing technology. It is designed to meet the needs of the population genomics sequencing market.
The innovative breakthrough of this sequencing system is that, different from the traditional sequencing slide and closed reaction system used in most platforms, DNBSEQ-T10×4RS uses dip-immersion biochemistry method and open system to achieve the best balance among sequencing read length, throughput, data quality, and cost. One DNBSEQ-T10×4RS can supports the operation of 8 sequencing slides simultaneously, producing up to 20TB data per day (about 200 whole human genomes sequenced at 30×). A single set of DNBSEQ-T10×4RS can produce more than 50,000 WGS per year.
The bioinformatic analysis of 30× WGS data show that the accuracy and sensitivity of SNP detection have exceeded 99% by using the DNBSEQ-T10×4RS, and the accuracy and sensitivity of Indel detection have exceeded 98%, achieving an industry-leading level.
DNBSEQ-T10 × 4RS in the operation
The last important module, ZTRON as the data center, is ideal for high-throughput sequencers. It contains a software system that realizes full-cycle data management from biosample management, laboratory production, bioinformatics analysis to data governance.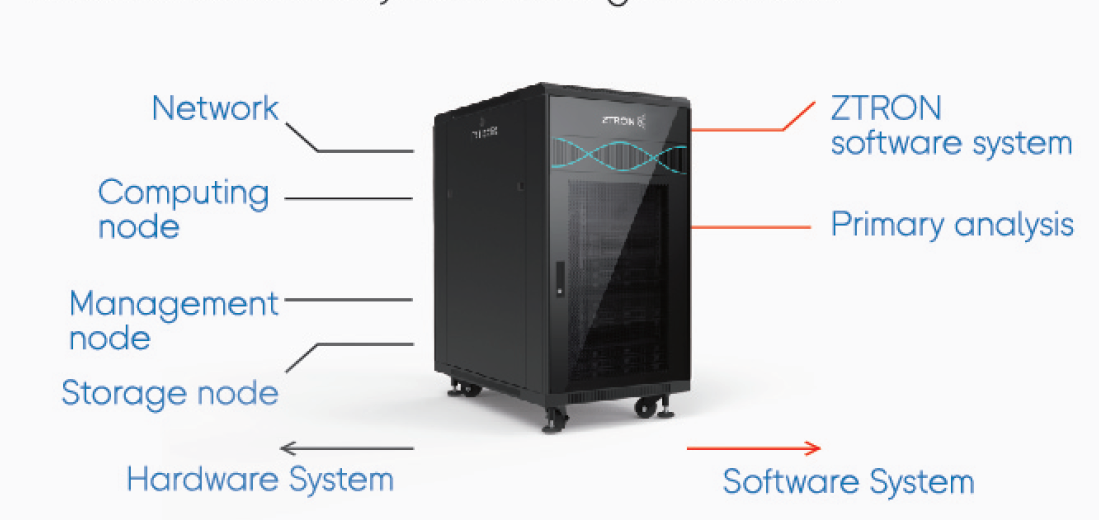 ZTRON architecture
MGI Total Solution for Population Genomics has four core advantages. Firstly, ultra-high-throughputwith an annual output of ≥ 50,000 high-depth WGS. Secondly, super-low cost; this new sequencing solution can effectively reduce the cost of sequencing. Thirdly, flexible customization for the full workflow, which can realize sequencing for 50k to 1 million genomes annually. Fourthly, automation from sample to report, making the whole sequencing process more convenient.
Furthermore, with the basic and advanced solutions, MGI provides customization of equipment quantity, configuration, site area and personnel plan according to customer needs. Calculation based on human WGS sequenced at 30x depth shows an annual output of 50k to 1 million WGS.
Population Genomics Sequencing Has Become a Global Trend,
Relying on Mature Technology to Open a New Era of Precision Medicine
In the past two years, built upon its all-in-one solution of high-throughput sequencing, MGI has been continuously expanding its imagination of innovation and application of high-throughput sequencing technology.
On September 9, 2019, the ultra-high-throughput genetic sequencer, DNBSEQ-T7, independently developed by MGI, was officially delivered to business partners. As the highest throughput sequencer to date, DNBSEQ-T7 is a 4-chip sequencing platform that can generate 6Tb of data per day and complete sequencing for up to 60 whole human genomes per day.As MGI's life science supercomputer, DNBSEQ-T7 has become an important force driving the development of the global genetic industry.
"When we combine DNBSEQ, CoolMPS, and intelligent sequencers, we are in the process of redefining MPS(Massively Parallel Sequencing) and the future of sequencing. We are making advanced genomics applications that are not possible before more accurate and more affordable. With the combination of these wonderful technologies, MGI is commititted to providing affordabale, comprehensive and accurate health monitoring for the future healthcare and genomics for all." said Dr. Radoje (Rade) Drmanac, chief scientific officer and co-founder of Complete Genomics.
At present, the achievements of large-scale population genomics research projects continue to grow on a global scale. Many countries, including the United States, Singapore, France, and the United Arab Emirates, have successively launched national large-scale population genomics projects. Recently, the UK government announced a national genomics healthcare strategy, Genome UK, setting plans to use genomics for personalized medicine, prevention of cancer and infectious disease, and responses to new global pandemics and public health threats. The life science industry has entered the era of genetic big data.
Under this circumstance, the market is in urgent need of high-quality sequencing solutions. The Total Solutionfor Large Scale Population Genomics was successfully launched by MGI thanks to its profound technology accumulation, strong independent R&D ability, and customizable automated solution. It will make gene sequencing technology accessible for more people, promote the development of precision medicine, and accelerate the progress of the human genome era.
(Note: "Products may not be available in all regions")