SAN JOSE, CA, March 30, 2020-- Global genomics leader BGI Group is providing SARS-CoV-2 test kits, automated sample preparation equipment and viral RNA extraction reagent to enable the diagnosis of new coronavirus cases in the Kansas City region through an innovative partnership with local business leaders and The University of Kansas Health System.
Responding to a request by a group of business leaders to quickly build additional testing ability for their community, BGI immediately mobilized its team to providea total solution for COVID-19, including BGI Genomics' Real-Time Fluorescent RT-PCR Kit for Detecting SARS-2019-nCoV and MGI's MGISP-960 High-throughput Automated Sample Preparation Systems.
Once availability was confirmed, the Kansas City business leaders quickly committed to purchasing 50,000 BGI Genomics' tests and MGI's equipment.
BGI Genomics' Real-Time Fluorescent RT-PCR Kit for Detecting SARS-2019-nCoV, the virus which causes COVID-19, has beenused to diagnose more than 1 million individuals worldwide and is currently being distributed to more than 70 countries and regions. BGI's technology has been deployed on the front lines of fighting the novel coronavirus in China, and the company aims to bring its experience and testing capability at scale to speed detection efforts across the US.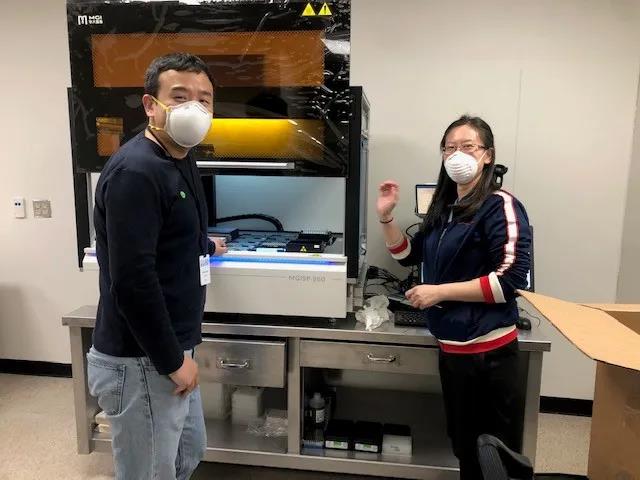 BGI team helps Kansas City to improve coronavirus detection capabilities
"We want to help the American people and support the Kansas City community to fight the spread of this disease with rapid, accurate testing capabilities that have proven to be very effective in China," said Yongwei Zhang, BGI Group Vice President and Americas CEO. "We are so impressed with the speed at which the local community took action, and we are ready to provide our full support to this and other communities affected by the current pandemic."
BGI Genomics. Co. Ltd. (SZSE:300676) and its US subsidiary BGI Americas Corp., announced on March 18, 2020, that its Real-Time Fluorescent RT-PCR Kit for Detecting SARS-CoV-2 is commercially available in the United States. BGI's detection kit is eligible to be used immediately to expedite clinical testing for the novel coronavirus, based on updated guidance from the U.S. Food and Drug Administration (FDA). On March 27, BGI announced that the FDA had issued an Emergency Use Authorization (EUA) for its RT-PCR kit for detecting SARS-CoV-2.
In Kansas City like many areas, the community has been challenged by the availability of COVID-19 test kits and the impact the virus is having on their community.
"Our company had four employees who were suffering from symptoms of the coronavirus, but due to the relative lack of available testing at the time, they were concerned about their health," said Nathaniel Hagedorn, CEO of NorthPoint Development, who worked alongside fellow business leaders Andy Deister, CEO ofRussell Stover Chocolates; Dave Cummings, CEO of Tradebot; Taimoor Nana, CEO of MTAR; and Tyler Nottberg, CEO of US Engineering, to get the test kits to Kansas City.
They initially researched what China and South Korea had successfully done to create much wider testing availability, searched for the companies that provided tests kits, and reached out to BGI.
The group also engaged The University of Kansas Health System, one of the Kansas City region's leading healthcare institutions and only academic medical center.
Working around the clock with the Kansas City leaders, BGI was able to deliver the first equipment and test kits on March 22 and secure shipments of automated equipment and other supplies for delivery next week. The University of Kansas Health System is currently processing the materials and equipment, and coordinating when, where and how the tests and associated capabilities will be available.
"It is remarkable what was achieved so quickly," said Mr. Deister, CEO of the Russell Stover Chocolate Company. "This, however, is just the beginning and there is a long way yet to go. We are all working hard to support and protect our community."
"Working together we were able to bring the best ideas and the best technology to support our local community," said Mr. Hagedorn. "We appreciate the efforts of BGI to help make this happen. Businesses can make a big difference, and our country needs effective leadership at this time."