Qingdao, Shenzhen, 7th September 2022 - The 17th Annual Meeting of the International Conference on Genomics (ICG-17), a meeting point for leaders in the emerging field of Genomics to meet and share their experience and insights, is taking place on 5-7 September in Qingdao, China. At ICG-17, MGI introduces its mass production base of its latest miniaturized gene sequencer DNBSEQ-E25*.
As a flagship model of the E series of sequencer, DNBSEQ-E25* was officially launched in August 2022 in China and will be available for the U.S. market around January 1, 2023, at the earliest. Characterized by miniaturization, portability, and usability, and DNBSEQ-E25* has currently achieved mass production in Qingdao. Based on the DNBSEQTM technology, DNBSEQ-E25* can further improve the data utilization efficiency, as well as the accuracy, flexibility and sensitivity of variation detection.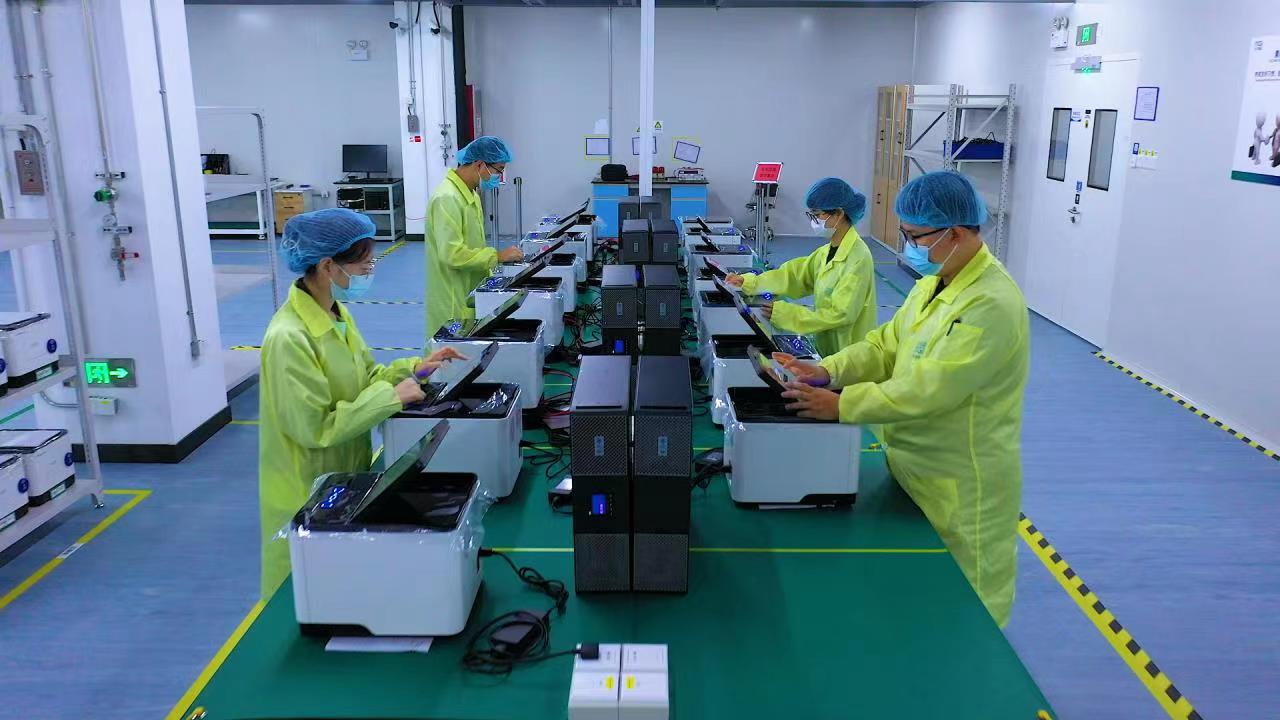 ICG-17 also marks the debut of MGI Qingdao Mass Production Base. Spanning over 30,000 square-meter, MGI Qingdao Mass Production Base was officially put into production in May 2021 and is able to mass produce the miniaturized gene sequencer DNBSEQ-E25* rapidly. In addition, it is also equipped with automatically integrated multiple-module sequencing enzyme reagents production line independently designed by MGI and an automated ultra-low-temperature biobank co-developed with AUCMA, enabling the full life-cycle data management of samples.
About MGI
MGI Tech Co. Ltd. (MGI), headquartered in Shenzhen, is committed to building core tools and technology to lead life science through intelligent innovation. Based on its proprietary technology, MGI focuses on research & development, production and sales of sequencing instruments, reagents, and related products to support life science research, agriculture, precision medicine and healthcare. MGI is a leading producer of clinical high-throughput gene sequencers*, and its multi-omics platforms include genetic sequencing*, medical imaging, and laboratory automation. MGI's mission is to develop and promote advanced life science tools for future healthcare. For more information, please visit
MGI
website
or connect with us on
Twitter
,
LinkedIn
or
YouTube
.

.
*Unless otherwise informed, StandardMPS and CoolMPS sequencing reagents, and sequencers for use with such reagents are not available in Germany, Spain, UK, Hong Kong, Sweden, Belgium, Italy, Finland, Czech Republic, Switzerland, Portugal, Austria and Romania. No purchase orders for StandardMPS products will be accepted in the USA until after January 1, 2023.