The COVID-19 pandemic continues to pose unprecedented challenges on the public health system nationwide in China. MGI advanced genetic sequencing platforms* and lab automation systems have undoubtedly provided a powerful tool to support COVID-19 surveillance, research, control, and prevention in the public health responses.
The flexibility and efficient traceability features of MGI DNBSEQ-50 sequencer* can accommodate to the different needs of Centers for Disease Control and Prevention (CDCs).
MGI sequencing platforms have been playing an instrumental role in identification, monitoring, and surveillance of COVID-19 variants in many provinces and cities around the country, including Guangdong, Sichuan, Guangxi, Guizhou, Ruili, Hohhot, Liaocheng, and Alxa League.
Guangdong・Dongguan
As of March 20, DNBSEQ-G50 sequencer* has helped Dongguan CDC trace more than 60 positive cases. MGISP-100 automated sample preparation system has also provided strong support in sample processing to ensure a highly efficient streamlined workflow.
Sichuan・Yibin
On March 14, two asymptomatic imported COVID-19 cases were identified in Gongxian County, Yibin City. According to the viral genome sequencing at Yibin CDC, both cases were omicron BA.2 mutant strain, which was highly homologous with the viral genome of the reported cases outside the province.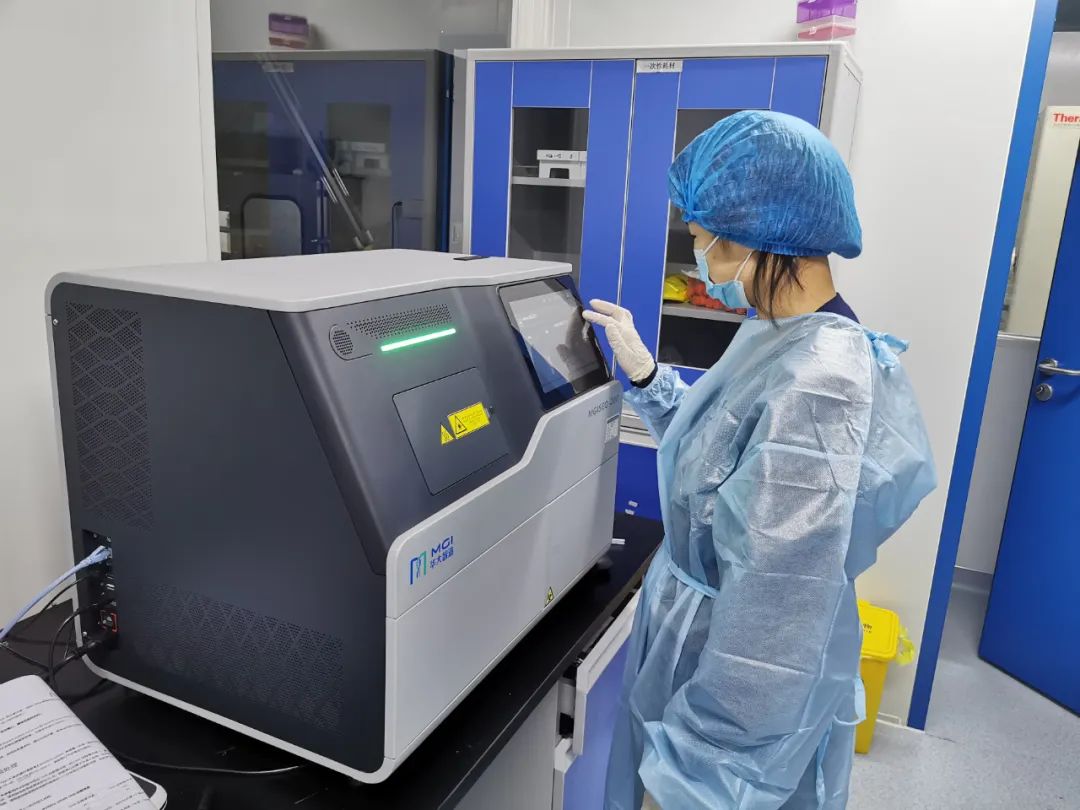 Since 2021, MGI DNBSEQ-G50 platform* has been installed in the Yibin CDC Laboratory. The platform has been highly recognized by Yibin CDC for its advantages of flexibility, efficiency, and high quality.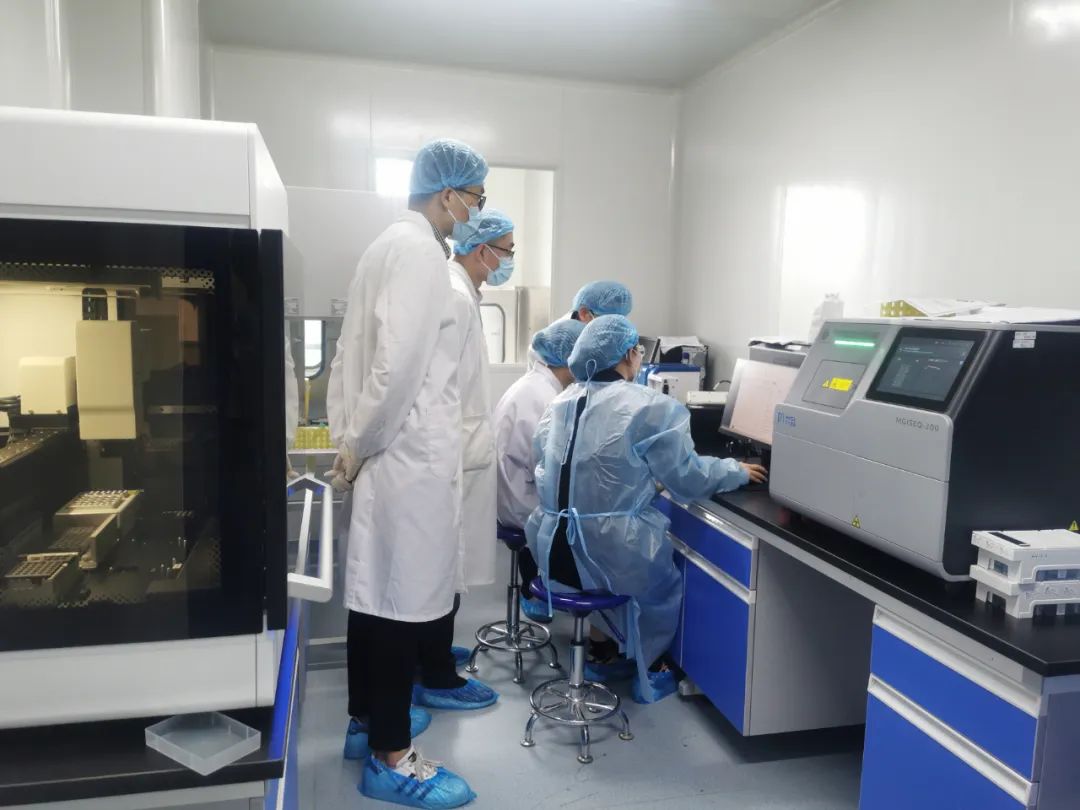 Guangxi Zhuang Autonomous Region・Fangchenggang
Fangchenggang is a coastal city in southern Guangxi, bordering Vietnam. As a border city, it has been under great pressure in the pandemic control and prevention. From the end of February to the middle of March, DNBSEQ-G50 sequencer* and MGISP-100 automated sample preparation system have assisted Fangchenggang CDC in completing the tracing of more than 60 COVID samples. Its data quality and sequencing speed have been highly recognized by the municipal CDC and district CDC.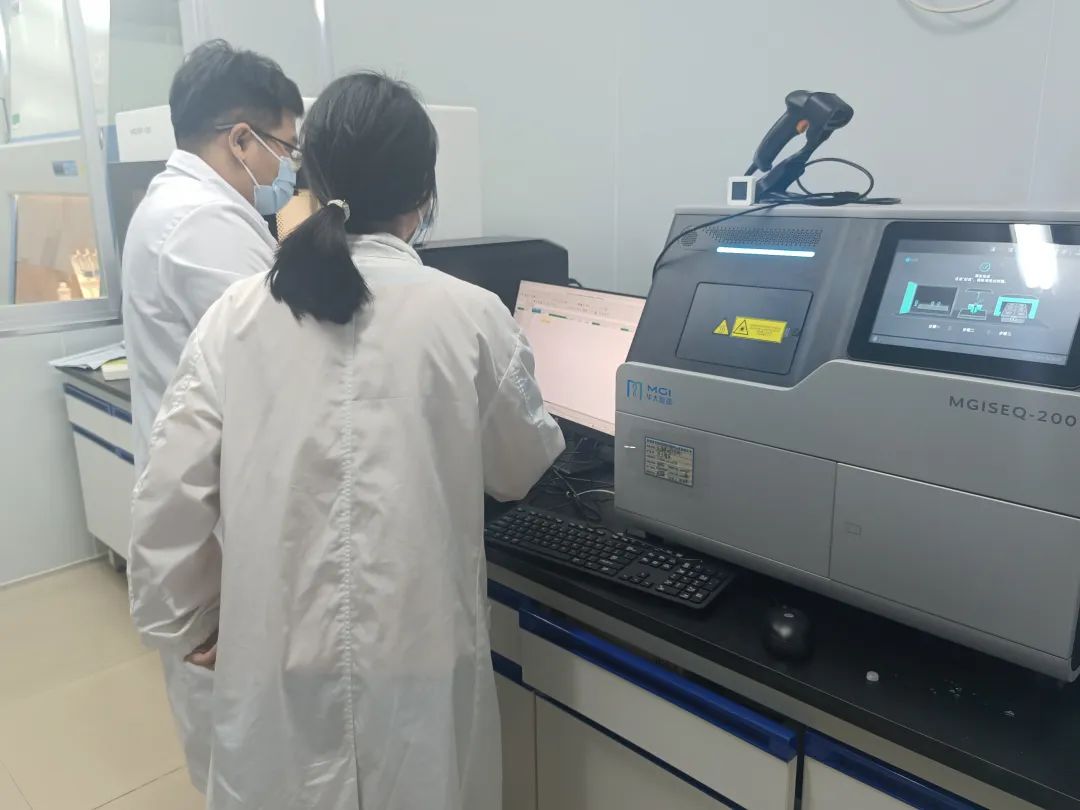 Guangxi Zhuang Autonomous Region・Qinzhou
On March 16, after receiving the assignment, MGI engineers responded quickly and rushed to Qinzhou CDC immediately to ensure the smooth operation of DNBSEQ-G50* and MGISEQ-100 for the tracing of COVID samples. The genome sequence of the first case in Qinzhou city was identified as omicron mutant strain, which has high homology with the recent overseas strain, suggesting that the case was highly likely linked to the imported cases.
Anhui · Ma' anshan, Tongling
On March 14, MGI deployed 2 sets of Automated & Integrated Nucleic Acid Detection Mobile Platform, and 7 sets of Nucleic Acid Detection Vehicle from multiple CDCs and hospitals of Anhui province and MGI engineers completed the debugging of all the equipment overnight to support Ma'anshan city's COVID-19 response.
MGI's one-stop mobile platforms were equipped with its high-efficient lab automation systems, including MGISTP-7000 high-throughput automated sample transfer processing system, MGISP-NE384 high-throughput automated nucleic acid extractor, MGISP-960 high-throughput automated sample preparation system and ZLIMS laboratory information management system, which can rapidly improve the testing capacity and meet the surging demand for nucleic acid testing during outbreaks.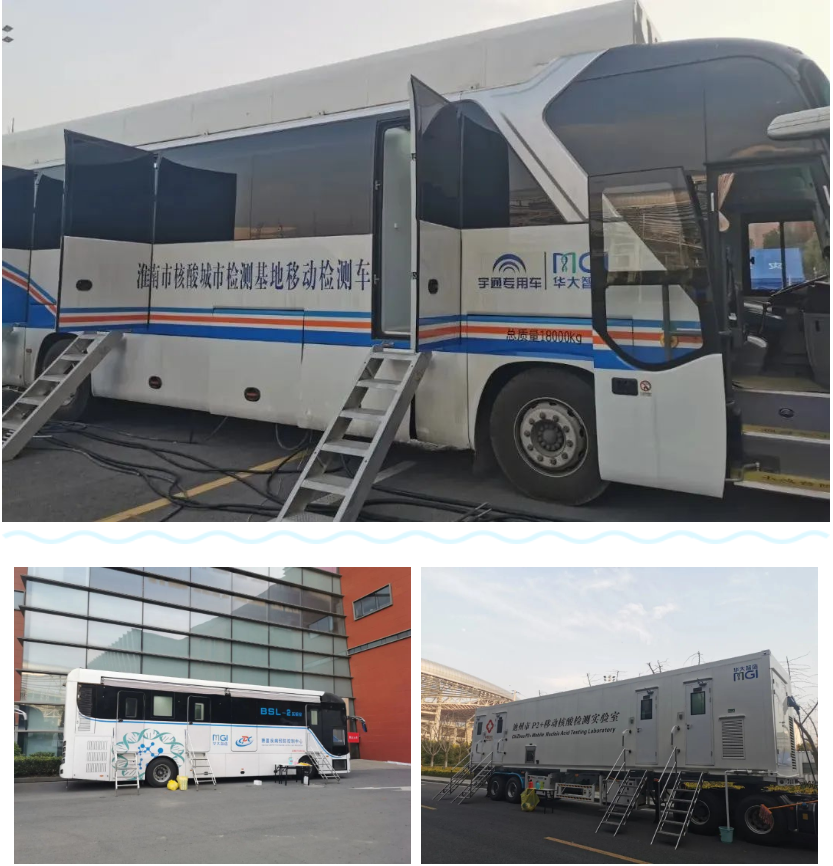 MGI's lab automation systems can work together to simplify the whole process from barcode identification, sample preparation, DNA/RNA extraction, liquid transfer, and fluorescence quantitative PCR testing to report distribution in a diagnostic testing laboratory and enable a highly efficient streamlined workflow.
The mobile platform can process 50,000 samples per day and 500,000 per day if 10 samples mixed in one tube for batch testing, thus greatly improving the testing efficiency and capacity of the Ma'anshan city.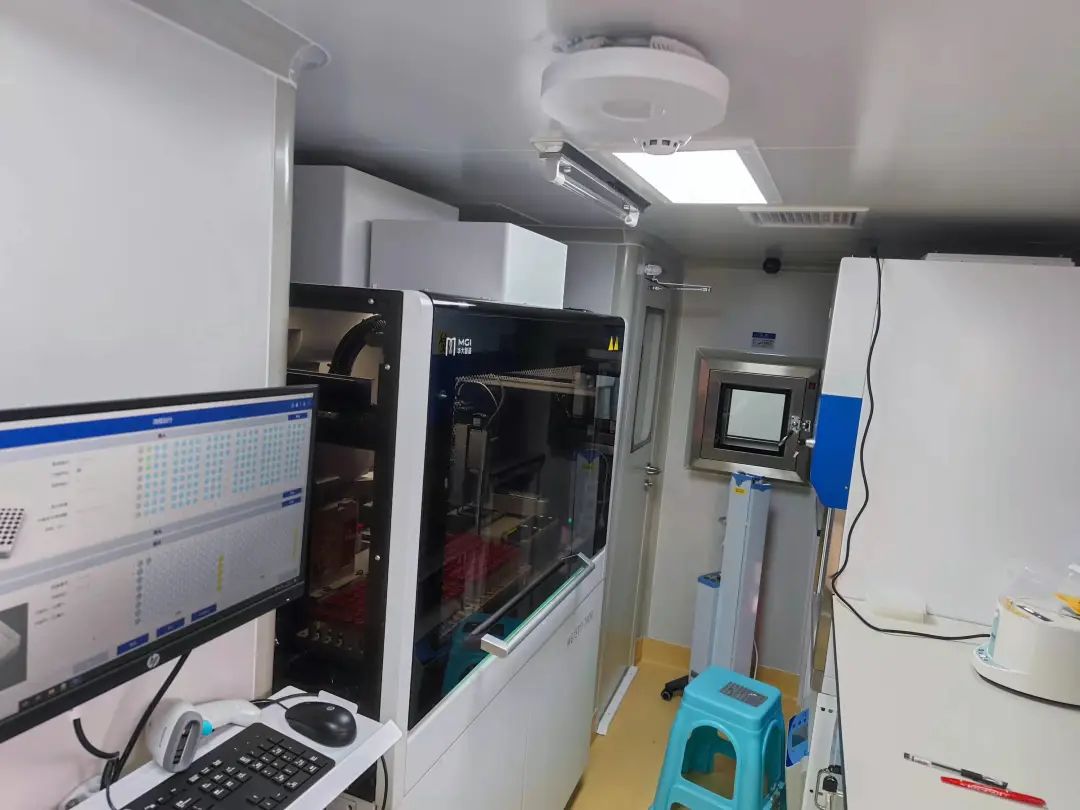 In 2021, MGI helped Lu'an city and Fuyang city in Anhui Province in pandemic control and prevention, providing a complete one-stop mobile platform for local public health response and rapidly improving nucleic acid testing capacity.
Fujian・Quanzhou
On the early morning of March 14, multiple automated & integrated nucleic acid detection mobile platforms arrived at Quanzhou Strait Sports Center in Fujian Province under the joint efforts of Fujian Provincial Hospitals and CDCs. The first joint mobile platform center in Fujian province was established, and all the equipment were installed, debugged and provided by MGI.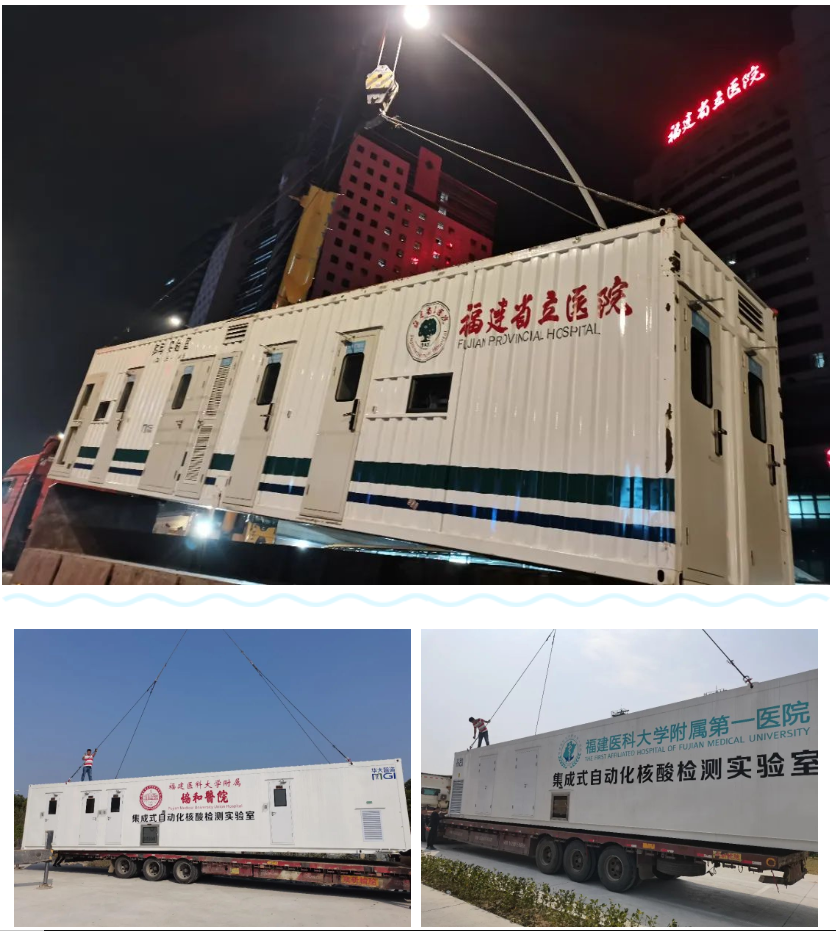 "These mobile platforms are equipped with MGI's powerful high-throughput automation systems with continual upgrading while fighting through multiple battles national-wide against COVID-19. Last September, our engineers stationed in Fujian for 23 days, contributed to the mass nucleic acid testing work." Said Xu Guoyang, MGI after-sales engineer.
The mobile platforms in Quanzhou can process 100,000 single tubes per day and 1 million samples per day if 10 samples mixed in 1 tube for batch testing.
Shandong & Guangxi & Hebei
Since March, MGI automation equipment has supported serval cities including Yantai, Weifang, Qingdao and Dezhou in Shandong Province. MGI automation systems have processed more than 300,000 single tubes per day and 3 million samples per day for 10 in 1 tube mixed sampling. In addition, MGI automation equipment has played a pivotal role in enhancing the mass testing capacity in Langfang, Hebei Province.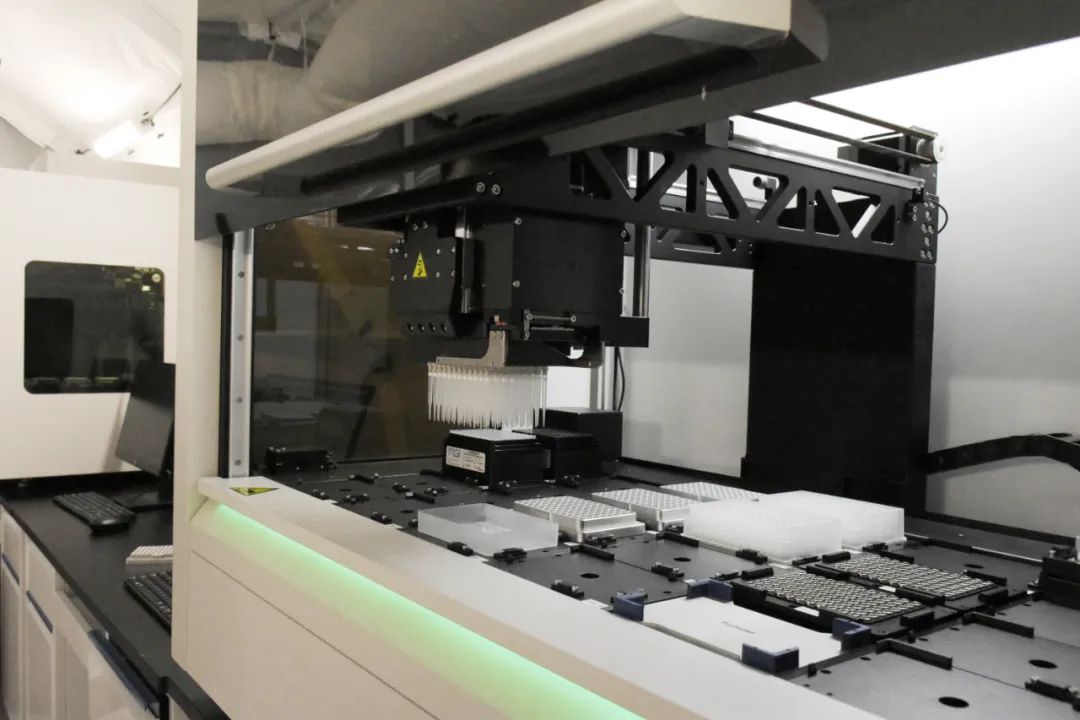 MGI's innovative sequencing platforms* and lab automation systems have supported 24 cities, including Hubei, Beijing, Tianjin, and Shenzhen, in China to date. MGI has also been playing an integral role in the global combat against COVID-19 by speeding up the efficiency of large-scale testing while ensuring a safer working environment for lab technicians. MGI's platforms have been supporting more than 70 countries to date, including Sweden, United Arab Emirates, Canada, Serbia, and Australia, contributing to safeguarding the global community.
*Unless otherwise informed, StandardMPS and CoolMPS sequencing reagents, and sequencers for use with such reagents are not available in Germany, USA, Spain, UK, Hong Kong, Sweden, Belgium, Italy, Finland, Czech Republic, Switzerland and Portugal.