Sharing the vision of making the benefits of genomics available to everyone, BGI Group EVP and MGI President Duncan Yu participated in the Global Sustainable Technology & Innovation Conference (G-STIC) Nov. 20-22 in Brussels and presented a keynote speech on recent innovations in genomics.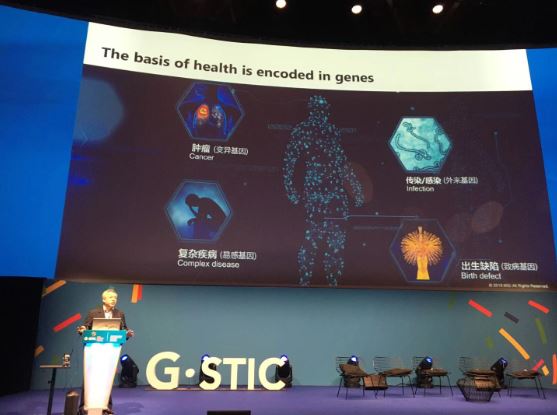 BGI Group EVP and MGI President Duncan Yu delivering speech
The focus of this year's conference, attended by technology leaders and policy makers from around the world, was identifying clusters of integrated technological solutions to accelerate progress on global Sustainable Development Goals (SDGs) such as health and climate.
BGI was invited to participate in the program Health for All, led by Dr. Paulo Gadelha, Coordinator of the FIOCRUZ Strategy for the 2030 Agenda at the Oswaldo Cruz Foundation (FIOCRUZ), Brazil. In 2018 BGI Group and FIOCRUZ established a partnership to support scientific cooperation between researchers in Brazil and China in areas such as prevention of infectious diseases.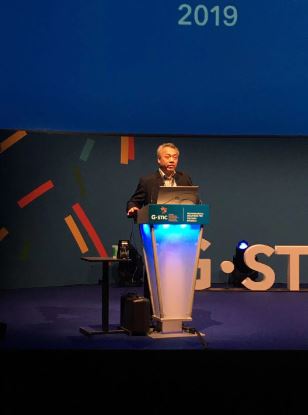 Mr. Yu presented BGI's pioneering work in genomics and MGI's vision to enable affordable and effective healthcare solutions for all. He introduced innovative health applications of genomics, from non-invasive prenatal testing and newborn screening to cancer diagnoses and rapid pathogen identification.
Genomics is at the forefront of medicine and the cutting edge of science, and advances in high throughput sequencing have dramatically reduced the cost of genomes. Still, only about 20 million people have their genomic information, and more efforts are needed to enable the world's 7 billion population to benefit from these advances.
"To ensure healthy lives and promote well-being at all ages, it is important for everyone to have access to their genomes as the foundation for understanding their health," he said. "MGI is improving our tools and solutions to make genomics more accessible and affordable to everyone. We are also introducing innovations like portable, battery-powered instruments to enable applications in many environments outside the lab."
The benefits of genomics to public health include managing risks for chronic disease through early intervention, identifying infectious disease outbreaks, preventing cancer deaths through early detection, and ultimately reducing the burden of disease.
MGI is working to support large public health projects with instruments like the DNBSEQ-T7, its highest throughput sequencer that greatly improves the efficiency and affordability of population health projects.
To expand access to sequencing technology, MGI has introduced the DNBSEQ E "express" series of portable sequencers that do not require electricity and simplify the workflow to lower the barriers to using genomics.
And MGI has continuously innovated its core DNBSEQTM sequencing technology to deliver highly accurate sequencing and reproducibility of data.
Mr. Yu also introduced public-private programs and new models of financing in cities like Shenzhen that have helped to scale up affordable genetic tests and expand coverage of non-invasive prenatal testing.
While genomics and other omics data is unlocking new ways to improve health and help people live longer, Mr. Yu said, ultimately such technology innovation must be accompanied by innovative business models and public-private partnerships to achieve widespread and sustainable impact.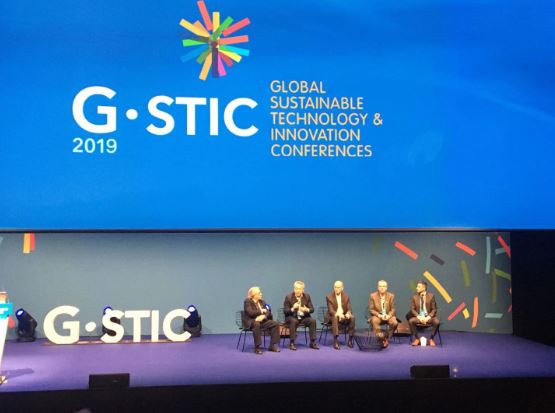 Other health session speakers at G-STIC were Rifat Atun, Professor of Global Health Systems at Harvard University, on the importance of well-functioning health systems; Shane Fairlie, Government Relations Director at the World Mosquito Program (WMP), on a new approach to fight mosquito-borne disease; and Bert Torfs, Director of Software Engineering and Emerging Technologies at Janssen Pharmaceutica, on innovative solutions for health data.