MGI is delivering a keynote speech and hosting a satellite event during its participation in the European Human Genetics Conference 2019 (ESHG 2019) held in Gothenburg, Sweden from June 15th to 18th. Hosted by the European Society of Human Genetics (ESHG), the conference is one of the most significant activities in human genetics, with more than 3,000 delegates participating each year. There are more than 250 oral presentations, 18 seminars, and 12 educational conferences, as well as numerous lectures on genetics, psychology and sociology. The conference serves as a platform for participants to discuss the latest developments in human genetics and communicate with professionals in all fields of human genetics.
At ESHG 2019, MGI will showcase innovative products it has developed: its MGISEQ-2000 gene sequencer and MGISP-100 automated sample preparation system. MGI will also hold a corporate satellite event titled "Towards a Perfect Genome" on June 15th from 10:00 to 11:30 and a keynote speech with a theme of "TAGs-seq" at the main venue of the conference on June 16th from 13:30 to 13:45. Interested in learning more about the innovation taking place in gene sequencing? Join us for an exciting program!
Booth Information
Dates: June 15–18, 2019
Venue: Swedish Exhibition & Congress Center, Gothenburg, Sweden
Booth No.: 642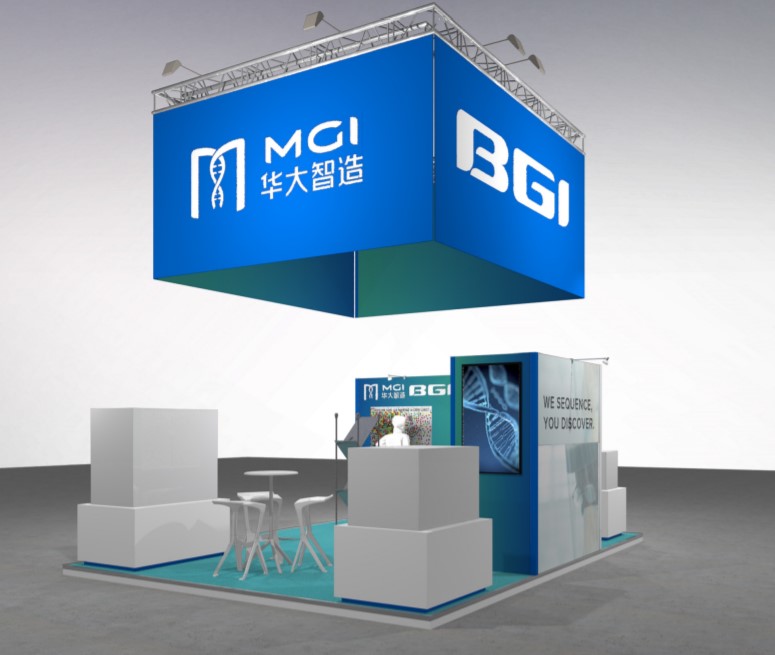 Satellite session
Date: June 15th
Time: 10:00-11:30 a.m.,
Venue: Room A3
MGI will hold a high-quality satellite conference titled "Towards a Perfect Genome," chaired by Dr Yong Hou, Executive Director, BGI-Research Institute. Three speakers will share the latest technologies and applications of gene sequencing.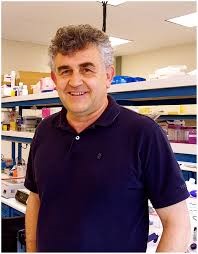 DNBSEQTM and stLFR enabling close to perfect WGS
Dr Rade Drmanac, CSO of MGI Tech, San Jose, CA, USA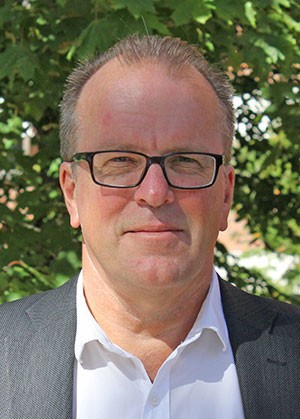 Large scale microbiome profiling in population-based studies
Prof. Lars Engstrand, Director of the Center for Translational Microbiome Research, Karolinska Institute, Stockholm, Sweden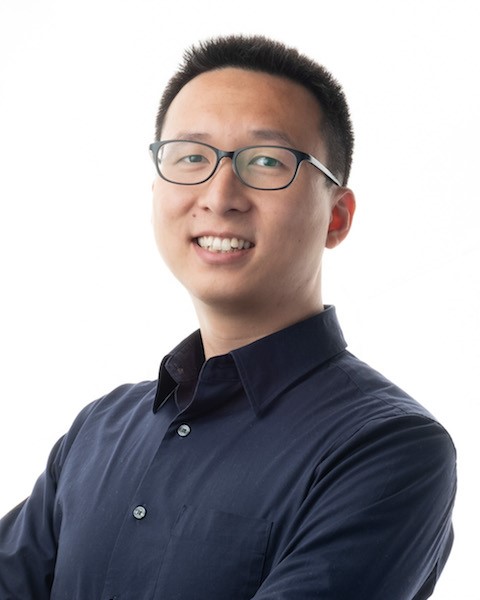 CleanPlex for MGI: A New Targeted NGS Solution with Exceptional Coverage Uniformity and Rapid Customization
Dr. Edward Jan, Director of Product Marketing, Paragon Genomics, Hayward, CA, USA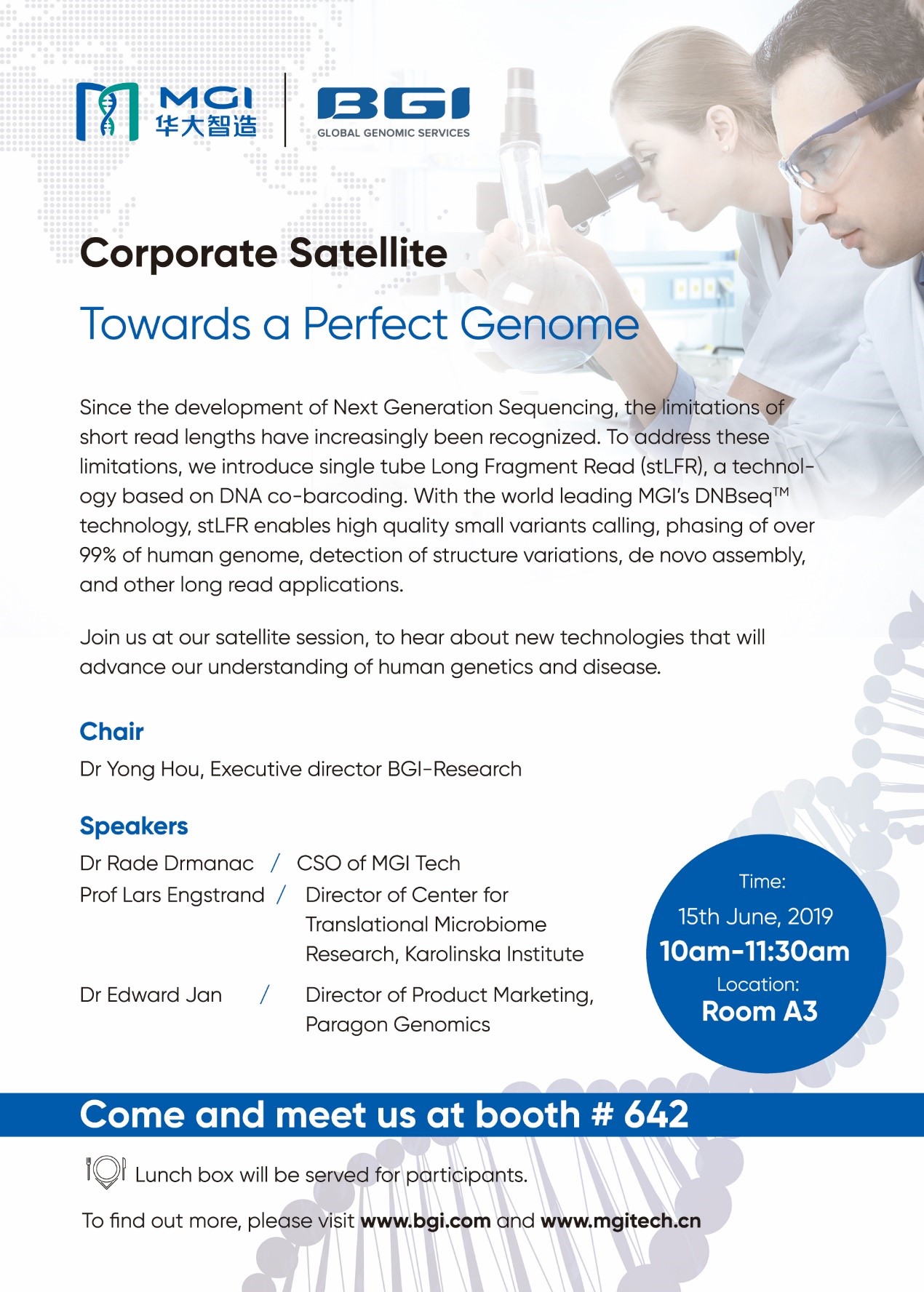 Keynote Speech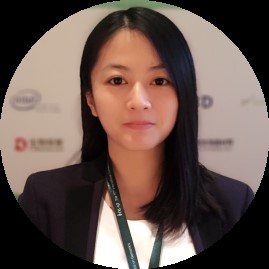 Validation of simultaneous detection of fetal chromosome aneuploidy and monogenic diseases by a novel noninvasive prenatal testing method: Targeted and Genome-wide simultaneous sequencing (TAGs-seq)
Speaker: Yicong Wang, MGI R&D Project Manager
Date: June 16, 2019
Time: 13:30-13:45
Venue: Hall C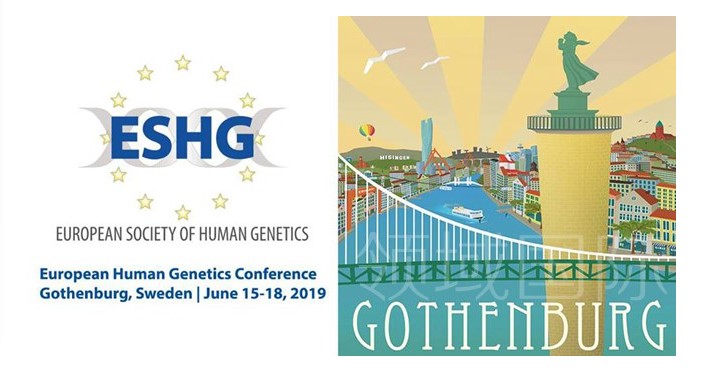 Looking forward to your participation!